California's Challenge
by Ray Paulick
Date Posted: 11/6/2001 9:53:30 AM
Last Updated: 11/6/2001 9:59:57 AM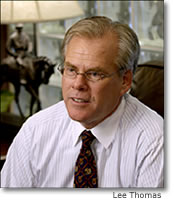 Ray Paulick
Editor-in-Chief


It's inside of two months for the long-awaited debut of account wagering in California, which, with 34 million residents, has by far the largest population of the 50 American states. The enormous number of people, combined with California's size, bad traffic flow in major metropolitan areas, and a poorly conceived and limited off-track wagering system, provides hope that this new type of wagering will give the racing industry a major economic boost.With proper approvals from the California Horse Racing Board and the Thoroughbred Owners of California, account wagering could begin in the state as early as Jan. 1, 2002.Californians wager approximately $2.5 billion per year on pari-mutuel racing, roughly 12% of the North American total of $18 billion. Without question, account wagering has the potential to significantly increase the amount bet in California by expanding the fan base and encouraging current players to participate more frequently. The downside is that it also has the potential to do little more than move on-track or off-track wagers into the home by changing the betting habits of existing patrons.The best-case scenario is that everyone involved in California racing will work together to expand the fan base and overall handle through a single wagering service associated with in-home television programming. TVG, the Television Games Network, launched this type of program in a handful of states in 1999 after test-marketing its services in Kentucky. Currently, TVG is available to Californians only through a basic package on the Dish Network satellite service, which currently is in 6.4-million homes nationwide.TVG's parent company, Gemstar-TV Guide International, is investing upwards of $200 million in the racing and wagering network in hopes of capturing a major share of the global interactive pari-mutuel market. Currently, TVG gets 5.5% of all wagers through its system, meaning it would have to handle nearly $4 billion to recoup its investment. That looks to be a tall order, considering TVG handled only $25 million in wagers during a six-month period this year.TVG's challenge becomes even more difficult if it is forced to launch in California without the Magna Entertainment tracks on its television menu. Magna owns Santa Anita Park, which runs its winter meet from late December through mid-April, along with Northern California's two major racetracks, Bay Meadows and Golden Gate Fields.Jack Liebau, who oversees the operation of Magna's California tracks, said his company is quickly moving forward with plans to operate its own account wagering hub and that discussions with TVG officials "haven't resulted in any agreement."Division of revenue for account wagering in California is determined by statute, which calls for a maximum of 6.5% going to the company that handles such a wager. The statute also includes language that dictates source market fees, which benefit tracks and horsemen in the region where the bettor resides, even if he makes a wager on an out-of-state race. Because it owns tracks in both the northern and southern parts of California, Magna is expected to receive more revenue from account wagering than anyone else in the state. Operating its own account wagering business could give the company an additional 6.5% in revenue. That's probably why Magna is developing a wagering hub.It boils down to this: TVG has a better chance of getting its signal into more homes in California than Magna or anyone else does at this time. But Magna (along with the horsemen through the Thoroughbred Owners of California) controls the content at Santa Anita Park and the two principal Northern California tracks.TVG and Magna would be much better off working together. Our industry would be, too.



Copyright © 2015 The Blood-Horse, Inc. All Rights Reserved.