Tiznow Will Not Run in Clark; Plans Undecided
by Steve Haskin
Date Posted: 11/5/2001 11:31:06 AM
Last Updated: 11/6/2001 9:20:43 AM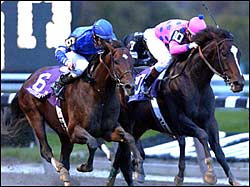 Horse of the Year Tiznow, successfully defended his title in the Breeders' Cup Classic.
Photo: Mike Corrado

Michael Cooper, majority owner of Tiznow, said Monday the two-time Breeders' Cup Classic winner definitely will not run in the Clark Handicap at Churchill Downs Nov. 23. Cooper also said plans for Tiznow are up in the air, and no firm decision has been made whether the colt will race again next year."I'm going to Kentucky Friday to talk to some people," Cooper said. "There are six or seven farms interested in him, and several of the people I have a lot of respect for. I feel it's in our best interest to at least listen to them. You have to separate your emotions from what's right from a business sense. I'm not the only person involved. Cecilia's (Straub-Rubens) son and daughter each own 22 percent of the horse."When Tiznow's name was mentioned in print as a possbile starter in the Clark, Bobby Frankel, trainer of Lido Palace, contacted Churchill Downs in an effort to raise the purse and increase the incentive. But Cooper said the Clark was never under consideration. "Nobody ever asked me about it," he said. "I think somebody caught Jay (Robbins) off guard and asked him about the possibility of running, and he just said it was possible. The horse's feet got destroyed over that track last year; it was stone hard. If he's going to race again next year, I certainly don't want him starting the year off with bruised feet. If Tiznow and Lido Palace are to meet, it'll probably be in the Dubai World Cup. We did mention the possibility of running in the Hollywood Turf Cup (Dec. 1), but that would just be an experiment."Cooper said he's on the fence right now whether Tiznow will race again. He should have a better idea after his visit to Kentucky. "On one hand, I'd still love to win the Hollywood Gold Cup and Pacific Classic, but there's also something to be said for going out a winner," he said. "This was a long, frustrating year for everyone associated with the horse. After the Classic, I almost passed out, literally. When I got up from my seat, I said to my wife, 'Wait a second, I don't think I can move.'"It was wonderful seeing him paraded before the stands on Saturday. He looked marvelous and didn't have a pimple on him. He's such an amazing horse."



Copyright © 2015 The Blood-Horse, Inc. All Rights Reserved.