A P Valentine's Dam Brings $4-Million
Date Posted: 11/5/2001 11:16:10 AM
Last Updated: 11/6/2001 9:28:42 AM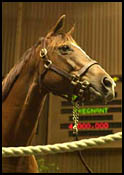 Twenty Eight Carat, the dam of A P Valentine, brought a top price of $4-million.
Photo: Anne M. Eberhardt

They saved the best for last during Monday's opening session of the Keeneland November Breeding Stock Sale, as two of the day's top prices came in the waning moments of the day.In the end, Brushwood Stable's Elizabeth Moran went away with the top prize, purchasing the dam of grade I winner A P Valentine for $4-million. The mare, Twenty Eight Carat, an 11-year-old daughter of Alydar, was in foal to Kentucky Derby winner Fusaichi Pegasus.Noting that she had bred Twenty Eight Carat and sold her as a yearling (for $325,000 at the 1991 Keeneland July yearling sale), Moran said she really likes the mare's female family. The purchase, however, was a business decision and not borne of sentimentality, said Moran. Moran declined to say if she would own the mare in partnership and noted she thought she would be able to purchase Twenty Eight Carat for less than the final price.Shortly after Twenty Eight Carat went through the ring, the mare Volvoreta was sold for $2.4 million, the day's second highest price. Volvoreta, was purchased by Newsells Park Stud from Three Chimneys Sales. The daughter of Suave Dancer was sold in foal to Giant's Causeway.Keeneland reported 152 horses sold for a gross of $48,735,000, an average price of $320,625 and a median price of $180,000. The 88 horses that did not attain their reserves represented 36.6% of the total through the ring.At last year's record-breaking Monday session, 226 horses were sold for a gross of $102,450,000 and an average price of $453,319.Although Keeneland would have liked a sale closer to last year's first session, sales director Geoffrey Russell said the outcome was not a surprise. He cited the lack of many top quality mares in the sale as a result of last spring's Mare Reproductive Loss Syndrome outbreak, as well as uncertainty within the U.S. economy stemming from the Sept. 11 terrorist attacks as factors. Russell said the sale might have also been impacted by the one-week lapse between the Breeders' Cup World Thoroughbred Championships and the beginning of the sale."There is a lot of momentum when the Breeders' Cup is held the first Saturday in November," Russell said.Third-highest price Monday of $2,150,000 was paid by John Sikura for a Royal Academy mare in foal to leading sire Storm Cat. Sikura said 6-year-old Heeremandi, a group I-placed mare with a solid black type family, will be sent to his Hill 'n' Dale Farm near Lexington, Ky. The mare was consigned by Lane's End."She is in foal to the right horse." said Sikura, who purchased the mare on behalf of a partnership in which he is involved. "We just hope to get lucky."Newsells Park Stud, the breeding entity of Klaus Jacobs that was a major factor during Monday's session, also buying the fourth-highest priced offering when they paid $2.1 million for Snow Polina. A 6-year-old Trempolino mare consigned by Three Chimneys, the Beverly Hills Stakes (gr. I) winner was sold in foal to Danzig.Wertheimer et Frere went to $1,950,000 to acquire North of Neptune, a 3-year-old unraced daughter of Mr. Prospector sold as a broodmare prospect. Produced from the top European racemare East of the Moon (by Private Account), North of Neptune is from the female family of champion Miesque. "You have to like what you see," Alain Wertheimer said. "It's a great family."Sixth-highest price of $1.6-million was paid for Dreams Galore, a grade I-winning daughter of Silver Ghost purchased by Live Oak Stud. Consigned by Three Chimneys as a broodmare prospect, the 5-year-old mare will remain at Three Chimneys to be bred, according to Live Oak general manager Bertram Mickel.Top price for a weanling was the $1.5 million paid for a Storm Cat filly produced from the grade II-winning Deputy Minister mare Better Than Honour. Consigned by Sikura's Hill 'n' Dale Sales Agency, the filly was purchased by Josham Farms Ltd. Teddy Burnett, who signed the ticket, said the filly was acquired on behalf of a Canadian partnership. Sikura said he will retain half-interest in the filly, who was foaled Jan. 21.In addition to being a daughter of leading sire Storm Cat, the filly was produced from a prolific female family that includes Kentucky Oaks (gr. I) winner Blush With Pride and Irish champion Malinowski.Top RNA price was the $1,450,000 for which Eishin Austin, an 8-year-old Seattle Slew mare, was bought back.Live Hip By Hip Results from Bloodhorse.comTop Priced HorsesLeading BuyersLeading ConsignorsLeading Sires



Copyright © 2015 The Blood-Horse, Inc. All Rights Reserved.