Frankel Hoping For Tiznow vs. Lido Palace Showdown in Clark Handicap
by Steve Haskin
Date Posted: 11/2/2001 1:51:45 PM
Last Updated: 11/5/2001 5:45:16 PM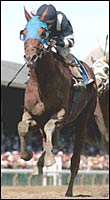 Lido Palace won the $750,000 Whitney Handicap at Saratoga in July.
Photo: Associated Press/ NYRA, Adam Coglianese

Bobby Frankel's mouth began to water as soon as he heard that two-time Breeders' Cup Classic winner Tiznow was being considered for the $400,000 Clark Handicap at Churchill Downs on Nov. 23. Suddenly, visions of an Eclipse Award for Lido Palace flashed through his mind.Lido Palace, who has already defeated Tiznow in the grade I Woodward Stakes on Sept. 8, came down with a fever the morning of Oct. 27, which all but scrapped any plans Frankel had of sending the 4-year-old Chilean-bred colt to the $2 million Japan Cup Dirt. When he heard Tiznow's name mentioned as a possibility for the 1 1/8-mile Clark, he contacted Churchill Downs senior vice-president of racing, Donnie Richardson, and suggested they raise the purse of the Clark to provide an added incentive to Tiznow's connections."(Richardson) said if Tiznow is nominated, he'll go to the higher-ups and make the suggestion," Frankel said from his barn at Hollywood Park. "I'm not trying to make enemies of anyone or create some kind of rivalry, although there's nothing wrong with a rivalry. They're the ones who mentioned the Clark. I really didn't think they'd run him anymore this year. When I heard they were considering it, I suggested the purse increase to help entice them to come. If Tiznow beats Lido Palace it could make him Horse of the Year. If we beat him again, Lido Palace would have a good shot to get the Eclipse for older horse. Personally, I don't care about the money. I'd run if it was $100,000. I just want to run against that horse. I might even put Euchre in there, too."Everyone has forgotten about my horse; they hardly ever mention him. All he did was beat the first- and third-place finishers of the Breeders' Cup Classic. Everyone's talking about Sakhee. What about my horse? What has he done wrong? Even if Tiznow didn't run, I still wouldn't have shipped Lido Palace to Japan after he came down with that fever. Because he missed five days of training, I had him on the track at Belmont at 5:30 (Friday) morning, then the horses shipped out at 6:30. I'm going to work him Sunday on the grass with a good 3-year-old I have who needs a grass work. It will be just short of 11 weeks from the Woodward to the Clark, and I need to get three works into (Lido Palace)."The 1 1/2-mile Hollywood Turf Cup on Dec. 1 has also been mentioned as a possble race for Tiznow, who is scheduled to parade at Santa Anita Saturday before the Cal Cup Classic. "That's OK," Frankel said. "I'll have a horse for that race, too."



Copyright © 2015 The Blood-Horse, Inc. All Rights Reserved.