Kentucky's Mixed Sales Will Help Measure Health Of Thoroughbred Industry
by Deirdre B. Biles
Date Posted: 11/1/2001 4:06:43 PM
Last Updated: 11/3/2001 8:13:12 AM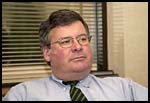 Keeneland sales director Geoffrey Russell.


How do horsemen feel about the long-term health of the Thoroughbred market? The mixed sales in Central Kentucky should provide some answers. Broodmares and broodmare prospects, which represent investments in the future, make up the bulk of the offerings along with weanlings, who are more than a year away from generating any money at the racetrack.With the nation at war and the economy slumping, many sellers are worried that fewer buyers than usual will be willing to make commitments of cash and time to the Thoroughbred industry.Fasig-Tipton Kentucky's select auction kicks off the action on Sunday at 7 p.m. (EDT). That sale will be followed by Keeneland's November breeding stock auction that begins on Monday at 10 a.m. (EDT) and runs through Nov. 15. Also scheduled are the annual Adena Springs broodmare sale on Nov. 8 and the Stallion Access fall sale of selected seasons and shares on Nov. 9. Both of those auctions will be conducted by Fasig-Tipton.Mare Reproductive Loss Syndrome (MRLS), which swept through Kentucky and other states this spring, has sharply reduced the number of horses on offer. This year's Keeneland's catalogue lists 4,116 lots, down from the record number of 5,111 in 2000. The Fasig-Tipton select sale's catalogue has fallen from 106 lots last year to 72 this year, but Adena Springs will offer 77 mares in comparison to 66 in 2000.MRLS also caused declines in the quality of horses catalogued. There are fewer mares in foal to top sires.In addition, the decrease in the number of horses in 2001's fall mixed sales was influenced by falling prices last year for weanlings. At Keeneland, the average for young stock decreased by 12.8%. As a result, breeders appear to be saving more of their horses for the yearling sales."The world has changed dramatically in the last six or eight weeks, so it's hard to sit here and know what to expect, but we are guardedly optimistic," said Geoffrey Russell, Keeneland's director of sales. "We have received very strong response from Europe. Tim Preston, our European representative, said he has had more interest than ever for the November sale. We also have had a good response domestically based on the people who are calling to make requests for credit and seating. There are people who have not bought here for a while who are planning to come back."One of the biggest uncertainties is how buyers will respond to pregnant mares. While all veterinary studies so far have concluded there should not be any problems, shoppers are worried about fetal damage from MRLS."I have advised all the consignors that I have talked to that they should expect to be asked a lot of questions and to be as forthcoming as possible. Every one of them has said that they plan to do just that," Russell said.At Fasig-Tipton on Sunday, the big attraction will be Spinaway Stakes (gr. I) winner Stormy Pick, who will be offered as a racing or broodmare prospect. Also scheduled to be sold are Evening Promise, a multiple grade III winner who is in foal to 2000 Kentucky Derby (gr. I) winner Fusaichi Pegasus, and Aly's Jewel, a grade II producer who is in foal to Giant's Causeway.Horses catalogued for the Keeneland sale include grade I winners Lazy Slusan, Dreams Gallore, and Golden Ballet, who are being sold as broodmare prospects. Grade I winner Gourmet Girl is scheduled to be offered as a broodmare or racing prospect. There is one mare in foal to Storm Cat, Heeremandi, and another in foal to the recently deceased Nureyev, Nuts In May.Also among Keeneland's offerings are Cee's Song, the dam of 2000 Horse of the Year and 2000-2001 Breeders' Cup Classic (gr. I) winner Tiznow, and Lost the Code, the dam of 2001 Breeders' Cup Sprint (gr. I) winner Squirtle Squirt. Cee's Song is carrying full brother to Tiznow (by Cee's Tizzy), and Lost the Code is in foal to Cat Thief. A Langfuhr weanling, who is a half-brother to Squirtle Squirt, also is catalogued.



Copyright © 2015 The Blood-Horse, Inc. All Rights Reserved.