Beshear Reaffirms Push for KY Casino Vote
by Tom LaMarra
Date Posted: 12/27/2011 4:58:44 PM
Last Updated: 12/28/2011 7:16:13 PM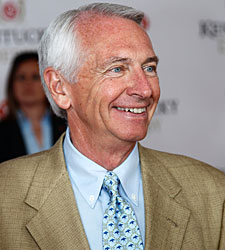 Steve Beshear
Photo: Crawford Ifland
Kentucky Gov. Steve Beshear Dec. 27 reaffirmed his efforts to push for a constitutional amendment on expanded gambling in 2012, citing results of a survey on the topic.
A statewide poll of 612 Kentucky voters was done by the Washington, D.C.-based firm of Garin-Hart-Yang Research Group Dec. 12-14. The survey was commissioned by "various Kentucky horse racing interests" and reported in a joint release from Churchill Downs and Keeneland, two Kentucky racetracks.
The poll found that 87% of those polled favor the Kentucky General Assembly passing legislation that would authorize a constitutional amendment on casino gambling, and that 61% would vote in favor of the measure. Officials said the survey has a margin of error of plus or minus four percentage points.
Download the Kentucky Attitudes on Casino Gaming Survey Memo here.
Beshear hasn't yet outlined how he will approach the General Assembly in January or what the proposed referendum will say. He has said the horse industry must benefit from any expansion of gambling, but it remains to be seen whether the language will limit gaming machines or full casinos to racetracks.
"We're working very hard to prepare for the upcoming legislative session, and one of my top priorities will be a constitutional amendment to take the gaming question directly to our people," Beshear said. "It's time for Kentuckians to decide the state's future on expanded gaming.
"Once again, a new poll shows Kentuckians demand an opportunity to vote on expanded gaming. The call for a direct vote by the people of this state has only gotten stronger over the last few years, and we should not make our citizens wait a moment longer to have their voices heard.
"For far too long millions of hard-earned Kentucky dollars have flowed across our rivers to surrounding states—helping to build schools and roads and hire teachers and police officers in Indiana, Illinois, and West Virginia. That's Kentucky money, and it belongs here where it can directly help our people."
The poll results indicate political party isn't much of an issue. It says 92% of Democrats, 88% of Independents, and 83% of Republicans support a casino vote.
Based on comments from racetrack executives, the racing industry appears to be solidly behind a constitutional amendment, as is Beshear.
"In today's political climate, to have 87% of voters demonstrate support for any issue is remarkable," Brett Hale, senior vice president of corporate and government affairs for Churchill Downs Inc., said in a statement. "We look forward to sharing this data with decision-makers in Frankfort and working with the governor and the legislature to pass a constitutional amendment and subsequent enabling legislation that ensures the protection of Kentucky's signature horse industry for generations to come."
"We are encouraged by, and would agree with, Kentuckians' strong desire to participate in a statewide vote on casino gaming," Keeneland vice president and chief operating officer Vince Gabbert said. "Kentucky's horse industry continues to face increasing competition from neighboring states that use revenue from casino gaming to provide incentives to racing and breeding operations. By acting now, we have a chance to stem the tide and keep Kentucky's signature industry from falling further behind."
Copyright © 2015 The Blood-Horse, Inc. All Rights Reserved.