Colonial to Move Lights for Night Turf Racing
by Blood-Horse Staff
Date Posted: 12/22/2011 11:13:33 AM
Last Updated: 12/23/2011 1:13:29 PM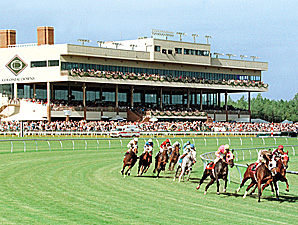 Colonial Downs
Photo: Coady Photography
Relocation of its lighting system will allow Colonial Downs to offer nighttime turf races as part of its new schedule in 2012.
The lights at the Virginia racetrack are located inside the 1 1/4-mile dirt track, meaning the 1 1/8-mile turf course isn't illuminated. But a $670,000 project expected to be finished by March 31 calls for moving 33 light poles to inside the grass course.
The lights will be installed on 37 concrete foundations. Four new light poles will have to be added, officials said.
Colonial Downs in recent years has run 80%-90% of its races on the grass but has been unable to schedule turf racing after dark.
The 32-day meet from June 2-July 28 will have new post times. Thursday, Friday, and Saturday cards will begin at 7 p.m. EDT, while Sunday racing will begin at 12:55 p.m. The $600,000 Virginia Derby (gr. IIT) is scheduled for July 21.
Colonial Downs since it switched to summer racing in 2001 had a twilight post time for weekday cards. In 2011 it experimented with a 5 p.m. post on Saturdays to beat the heat and help patrons avoid beach traffic congestion on Interstate 64 west of Williamsburg and Virginia Beach.
Officials earlier reported a 20% increase in average daily attendance and a record crowd of 10,120 for the Virginia Derby. In 2011 Colonial Downs raced four days a week instead of five.
"The ontrack business spike from a later post time, and a four-day-a-week race schedule helped make the decision to move forward on the lighting project a bit easier," Colonial Downs president Ian Stewart said. "I'm very optimistic that this new initiative will expose racing to a new audience here in Virginia, and give evening simulcast customers around the country a great product to wager on as well."
Copyright © 2015 The Blood-Horse, Inc. All Rights Reserved.