Sprint Story: A Squirt of Success
Updated: Thursday, August 15, 2002 2:22 PM
Posted: Wednesday, October 31, 2001 10:46 AM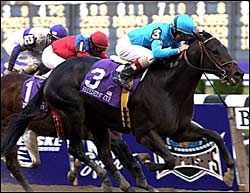 Published in Nov. 3 issue of The Blood-Horse
One day last fall, David Lanzman picked up the phone and rang Bobby Frankel to see if he would discuss taking a horse for him. It was 7 a.m. Frankel told him to swing by the barn between 9:15 and 9:30 and hung up. Frankel is one of the sport's leading trainers, a guy with a barnful of well-bred horses for such top owners as Prince Khalid Abdullah, Edmund Gann, Audrey and Charles Kenis, and John and Jerry Amerman. Abdullah's Juddmonte Farm is one of the world's most successful breeding operations, and many of the runners begin their careers in Europe. Frankel picks out horses for most of the others and buys them privately for his clients. Lanzman showed up at the appointed hour, carrying with him a copy of a report from noted California equine surgeon Rick Arthur. The veterinarian had removed chips from the right front knee of Lanzman's best ever horse, a Marquetry colt named Squirtle Squirt and also cleaned out the left knee while he was at it. The prognosis, Arthur had noted, was that Squirtle Squirt would "come back better than ever." "The owner just called me and said he was switching trainers and asked me if I wanted him," Frankel said the day after Squirtle Squirt won the Penske Auto Center Breeders' Cup Sprint (gr. I). "He said the horse had just been operated on for a knee chip, and when he comes back to us do you want to train him? Then when I started training him I didn't think he'd be that much because he was difficult to train. He was too strong. He wanted to gallop too strong." When Squirtle Squirt took up residence in the Frankel barn it set in motion a sequence of events that would culminate Oct. 27 at Belmont Park with Lanzman's pride and joy giving a frustrated Frankel his first Breeders' Cup victory. Every writer had penned a column about Frankel's 0-for-36 record in Breeders' Cup races. A Hall of Famer having a Hall of Fame year, this had to be the New York native's best shot, returning to his roots with three favorites on the eight-race World Thoroughbred Championships card--Flute in the Distaff (gr. I), You in the Juvenile Fillies (gr. I), and Aptitude in the Classic (gr. I). After Flute ran seventh at 6-5 and You was fourth at less than even money, it was Squirtle Squirt, the horse named for a Pokemon character, that got Frankel off the schneid. It wasn't hard to figure out that Squirtle Squirt would be part of the early pace in the six-furlong Sprint, along with the lightning-quick filly Xtra Heat and fellow Californians Caller One and Five Star Day. Doing a bit of handicapping himself Squirtle Squirt's jockey, Jerry Bailey, figured the best thing was to let Xtra Heat fire out from the rail and hope she, Caller One, and Five Star Day would set things up for him. Had he drawn the plan up on a chalkboard, Bailey would have scripted the race exactly as it unfolded. "I knew I couldn't take him back," Bailey said. "I just tried to talk him out of wanting the lead. Fortunately, he listened." Xtra Heat, unbeaten in 10 starts at six furlongs, quickly moved to the front under Jorge Chavez. The other speedsters also broke sharply, Caller One pulling alongside and Five Star Day further outside. Bailey sat chilly on Squirtle Squirt just off their flanks. Xtra Heat led the group through a quarter in :22.45 and a half in :44.75 while showing no signs of weakening. Likewise, Caller One, trained up to the race by James Chapman off a 14-week layoff, was full of run and not giving an inch. Still, Bailey sat and waited. With the filly on the rail and Caller One to her outside, Bailey finally found the opening he was waiting for as the group spun out of the turn and hit the furlong marker in :56.30. He split rivals and it was a race to the finish, Bailey driving Squirtle Squirt hard to not only outfinish Xtra Heat and Caller One, but any closers who might be gaining. At the wire, Squirtle Squirt was a half-length in front of the extra game Xtra Heat, who was a neck ahead of Caller One. Swept Overboard, who was last at the break and had only two beat with four furlongs to run, was only another neck back in fourth. Last year's winner, Kona Gold, lacked his usual strong rally and finished seventh, though he was beaten only four lengths. Kona Gold was a lukewarm favorite, at 7-2, in a wide-open affair made so when he lost his final Sprint prep to Swept Overboard. The second choice in the race, the "now" horse, was the Bob Baffert-trained El Corredor, who was shortening up for the race. Forced to run wide, he never threatened, beating just two horses. "I really didn't think it would be Squirtle Squirt to get Bobby his first win," said Bailey, who also rode Flute and Aptitude for Frankel. The latter finished eighth in the Classic. Frankel's two other runners on the card were Timboroa, who finished third in the Turf, and Starine, who ran 10th in the Mile. Squirtle Squirt was sent off at 9-1, the fifth choice in the 14-horse Sprint field. When he was just becoming a teenager in Southern California, Lanzman was already busy hustling tickets to Lakers and Kings games at the Forum. Across the parking lot, he would watch the comings and goings of Hollywood Park. One day he decided to sneak in and see what all the fuss was about. "The first four bets I made I won," Lanzman said. "I loved it. I was hooked." He began to hit the track three or four times a month, watching both Thoroughbred and Standardbred races. He remembers "sneaking in" one day and watching Albatross and Fresh Yankee race against one another. "I knew nothing about harness racing, and here I was watching two of the best harness horses of all time." But it was the Thoroughbreds that mostly attracted Lanzman's attention, pulling him to the track more and more with each passing year. "I went from three or four times a month to seven or eight times a month," he said. "I told myself that as soon as I got to a point where I could buy some horses, I would. And I did." Lanzman spent over 10 years singing in various Los Angeles rock bands but grew tired of the lifestyle and took a job on the bottom rung at a bank. Promoted from teller to assistant manager, he saw that the loan department was where the action was and asked to be transferred. In 1995, he started his own residential loan company, Nationwide Mortgage Consultants, located in Pasadena. The 44-year-old Pennsylvania native now resides in Hollywood. Lanzman bought his first horse in 1991, entering the game the way many owners do, with claiming horses. In 1997, he began to get "more serious" about finding better stock to race. His early pedigree training came from handicapping. Shopping only at California auctions, Lanzman goes through catalogues himself to identify potential purchases, then has a trainer take a look at the horses. He was surprised to purchase Squirtle Squirt for $25,000 at the 2000 Barretts March sale of 2-year-olds in training, figuring he would bring five or six times that amount. He can laugh about it now, saying of Squirtle Squirt when he purchased him, "Apparently I was the only one who didn't know he had a (knee) chip."
Continued...
Sprint Chart, From Equibase
FREE! E-Newsletters from The Blood-Horse!...
Follow the top stories of major racing events, racing previews and results with FREE e-newsletters from bloodhorse.com. As news develops, we'll deliver updates to your inbox. Follow important events moment by moment, step by step!