Ramseys Win Breeders' Cup John Deere Award
by Blood-Horse Staff
Date Posted: 11/30/2011 3:42:50 PM
Last Updated: 12/1/2011 9:46:05 AM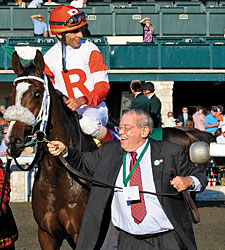 Ken Ramsey with Stephanie's Kitten
Photo: Anne M. Eberhardt
Bolstered by homebred Stephanie's Kitten, winner of the Breeders' Cup Juvenile Fillies Turf (gr. IIT), Kenneth and Sarah Ramsey are the first recipients of the John Deere Award as outstanding breeders of the 2011 Breeders' Cup Challenge series and the Breeders' Cup World Championships.
The John Deere Award, presented by Breeders' Cup Limited and NTRA Advantage, emphasizes the contribution of breeders to the Cup program. The industry's breeders fund the purses for the World Championships through annual nominations of foals and stallions.
The honor was given to the breeder who received the highest number of points based upon graded/group first-place finishes in the 68 Breeders' Cup Challenge races and the 15 Breeders' Cup World Championships races held this year.
In an extremely close competition, the Ramseys finished with 22 points, just two points ahead of five others: Gregg Anderson, Adena Springs, Grapestock, Stonestreet Thoroughbred Holdings, and Whisper Hill Farm.
The Ramseys earned their 22 points from victories by Stephanie's Kitten, who also captured the Darley Alcibiades (gr. I) at Keeneland; and from a triumph by 5-year-old Holiday for Kitten in the Thoroughbred Club of America (gr. II) at Keeneland.
"On behalf of myself, my wife Sarah Kathern, our four children—Scott, Jill, Jeffrey, and Kelly—and all our valued employees, we're thrilled and honored to receive this award from John Deere," said Ken Ramsey, whose farm is based near Nicholasville, Ky. "We've been blessed to breed such a wonderful animal as Kitten's Joy and to stand him here on our farm. We're all so proud of him, along with our one other stallion Catienus . We think Kitten's Joy will be the next great international stallion.
"When Stephanie's Kitten won the Breeders' Cup Juvenile Fillies Turf—with all my family there—knowing we had bred her stallion, bred her mare, and bred the two together, I would say the emotion was higher than when we won the Dubai World Cup (UAE-I) with Roses in May."
NTRA Advantage and John Deere will provide a John Deere TS Gator Utility Vehicle to the Ramseys.
"We use John Deere equipment here on my farm almost exclusively. All my tractors and all my lawnmowers are John Deeres," said Kenneth Ramsey. "I so appreciate the discounts we get on these products from NTRA Advantage."
"We were delighted with the extremely competitive results for the inaugural year of the John Deere Award and congratulate the Ramseys on their outstanding success," said Carter Carnegie, Breeders' Cup senior vice president, in a statement. "Over the years, John Deere has been a great partner with the Breeders' Cup and their expanded role in teaming with NTRA Advantage to create this new award has proven to be is a great way to recognize and promote the essential importance of our breeders to the Breeders' Cup program."

Copyright © 2014 The Blood-Horse, Inc. All Rights Reserved.