Keeneland Nov. Sale Gross Tops 2010 Total
by Deirdre B. Biles
Date Posted: 11/10/2011 8:28:07 PM
Last Updated: 11/11/2011 8:43:15 PM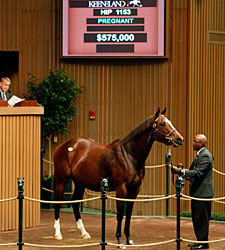 Miles of Style was the most expensive horse sold during the fourth session of this year's Keeneland November sale, bringing $575,000.
Photo: Keeneland Photo
The latest edition of the Keeneland November breeding stock sale has more momentum than a charging rhino. At the end of its fourth session Nov. 10 in Lexington, its gross stood at $167,294,200, well above the total take for 2010's entire 13-day auction of $147,392,900. Compared to last year's fourth session, this year's gross was up 54.3%.
And the huge pile of money is going to keep growing and growing.
"It's still very competitive," said Geoffrey Russell, Keeneland's director of sales. "A lot of people from Book One (of the sale catalog) are still here and there are also new people. There was a strong international presence today apart from the strong domestic market. We saw the South Americans popping up and the Saudis and the Turks."
The other four-day cumulative results included an average price of $209,379 for the 799 lots that were sold. The median price was $100,000. Compared to 2010, when 843 lots were sold, the average was up 62.8% and the median increased 29.9%.
The buy-back rate was 22%, down slightly from 22.5% in 2010.
"The consignors who were showing yesterday and today for Book 3 told us they had been very busy," Russell reported. "One consignor complained bitterly that his staff wasn't ready at 7:30 this morning when people came to the barn. There is still great interest and a lot of foal (weanling-to-yearling) pinhookers haven't gotten going yet."
During the fourth session, 257 lots were sold for a gross of $20,265,700. The average was $78,855 and the median was $50,000. The gross grew 20.6% from last year, when 263 lots were sold during the same session. The average rose 23.4%, while the median increased 11.1%.
The buy-back rate was 23.7%, down from 25.5% in 2010.
The complete dispersal of horses owned by the late Edward P. Evans of Spring Hill Farm generated a gross of $2,944,000 for its 21 horses that were sold on the November auction's fourth day. So far, during the sale, the dispersal has sold 122 lots for a gross of $52,613,500 while being handled by Lane's End. Earlier this year, at the Keeneland September yearling sale, 50 Evans yearlings were sold by Lane's End for $6,527,000.
Miles of Style, a 4-year-old unraced daughter of Storm Cat, was the most expensive horse sold during the fourth session of this year's Keeneland November sale, bringing $575,000. Mandy Pope's Florida-based Whisper Hill Farm purchased her from Lane's End, agent for the complete dispersal of Hilbert/Menard Thoroughbreds.
Earlier this year, Miles of Style produced her first foal, a Street Sense filly that sold for $295,000 to Longitude Farm, agent, during the same session. Miles of Style, who is in foal to Quality Road , is a full sister to Mr. Sidney , who captured the Maker's Mark Mile Stakes (gr. IT) and Firecracker Handicap (gr. IIT) in 2009.
Their dam, Tomisue's Delight (by A.P. Indy), won the Ruffian Handicap (gr. I) in 1997 and the Personal Ensign (gr. I) and Falls City (gr. III) Handicaps in 1998. She is a full sister to 2003 Horse of the Year Mineshaft , who is a successful sire.
Following are comments from consignors about the Keeneland market:
Dan Kenny, Four Star Sales: "We are getting the job done. We're not hitting everything out of the park the way the Evans dispersal is, but we're happy that they (the dispersal horses) are here because that keeps people interested. It brings buyers out who might not have come out otherwise. I think we have a reason to be satisfied, but not complacent, with the state of the market. We would like to see it get even better."
Kitty Taylor, Warrendale Sales: "It's been solid. They (the buyers) are looking at (the progeny of and mares in foal to) first-year horses again. I think they're also going back to mares again, which makes me feel better about the market. If they're buying the factories, then they're interested in long-term investments again and that's good."
John Stuart, Bluegrass Thoroughbred Services: "Everything is doing pretty good. I even sold an older mare for good money with a late cover. They're usually really hard to move, but it's a rising market."
Michael Hernon, Gainesway: "A rising tide raises all boats and the Evans horses raised the market for other quality products, so it's strong. I would say it's very strong for weanlings when everything is right and they've got the physical and the pedigree. For pinhookers, especially, the all-important (clean) vet report is significant."
Pat Costello, Paramount Sales: "I've sold some horses nicely today, for $130,000, $125,000, and $155,000. The ones that the buyers are really on are selling easy enough, going right past their reserves. But I've also had a bunch of RNAs (buy-backs). It is very tough in some spots. A lot of people have left town, I think."
Copyright © 2014 The Blood-Horse, Inc. All Rights Reserved.