Breeders' Cup Day Begins; Opening Ceremony Held
by Dan Liebman
Date Posted: 10/27/2001 11:47:13 AM
Last Updated: 10/29/2001 10:41:49 AM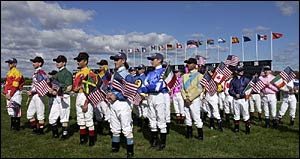 Breeders' Cup jockeys join in the opening ceremony of the World Thoroughbred Championships 2001.
Photo: Mike Corrado

Odds are this is the first time in this country that racing fans walked into a track with armed guards on the roof. But this is also the first time racing's biggest day has been held in the same area where a terrorist attack occurred just six weeks earlier.As patrons filed in in to Belmont Park for the World Thoroughbred Championships, bags and cars were being searched, sharpshooters were positioned on the roof, and a helicopter periodically circled the airspace.Other than that, however, people were doing what they always do two hours before a big day of racing -- finding a spot to watch the races, handicapping, eating, and planning Pick-Six and Superfecta tickets.The weather was 50 degrees and windy (10-20 miles per hour from the northwest), but sunny. The turf will be extremely firm because there has been no significant rain in the New York City area in the past month. That could work against the European turf runners, who have never run on turf as firm as they will encounter Saturday.The championship day of racing is being dedicated to the countless heroes who aided in the World Trade Center rescue and relief effort, and an opening ceremony beginning at 11:10 a.m. involved member of the New York police and fire departments.The jockeys riding in the day's race paraded across the track to the grass area near the tote board while a bagpipe band played "Amazing Grace." The riders were wearning New York Police Department and New York Fire Department caps.Each jockey was carrying two flags, one American, the other of their native country. As their names and nationalities were announced by track announcer Tom Durkin, they jogged in front of the officers, then handed them one of the flags. The loudest ovations were for some of the New York jockeys--Jerry Bailey, Jorge Chavez, John Velazquez, and New York-born Richard Migliore.Before the National Anthem was sung by New York police officer Carl Dixon, the police and firemen moved up and stood with the jockeys. When Dixon hit the final word of the Anthem, "brave," fireworks exploded from behind the tote board.The first post is 12:05 p.m. and first Breeders' Cup race, the Distaff (gr. I), goes off at 1:15.



Copyright © 2015 The Blood-Horse, Inc. All Rights Reserved.