KY Dates Requests Generate Discussion
by Ron Mitchell
Date Posted: 10/11/2011 6:08:44 PM
Last Updated: 10/12/2011 7:00:13 PM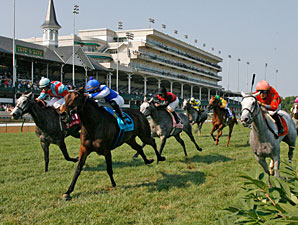 Churchill Downs will race 59 days in 2012.
Photo: Reed Palmer Photography, Churchill Downs
The frustrations of those involved in Kentucky horse racing surfaced Oct. 11 when a Kentucky Horse Racing Commission committee considered requests for 2012 racing dates from the state's five Thoroughbred and three Standardbred tracks.

The requests, which totaled 210 racing dates for Thoroughbred racing and 65 for harness racing, with no Quarter Horse racing, were status quo with the dates approved for 2011. The only significant change in the dates is the elimination of an overlap between Churchill Downs and Ellis Park over the Independence Day holiday.

Under an agreement reached when Ron Geary purchased Ellis Park in Henderson, Ky., from CDI, the two had both conducted live racing on July 4. With both tracks competing against each other not only for fans and wagering dollars but for horses and jockeys and with the holiday falling on a Wednesday in 2012, Churchill Downs decided to let Ellis have the date to itself. As a result, the Churchill spring meet will conclude June 30 and Ellis will begin live racing July 1.

The committee eventually unanimously approved all of the requests but not until after a spirited discussion about what the Kentucky horse industry can do in view of the exodus of horses and racing stables from the Bluegrass state to states where purses are soaring as a result of revenues derived from casino-type wagering at the tracks. Kentucky lawmakers have steadfastly refused to approve legislation that would permit alternative gaming in the state, although a form of electronic gaming known as Instant Racing recently began operating at Kentucky Downs.

Kentucky Downs' 200 Instant Racing machines resemble video lottery terminals but are considered pari-mutuel because all bets are pooled, unlike slot machines. The state Court of Appeals is currently considering a lawsuit challenging the legality of the machines, and some tracks, such as Turfway Park and Churchill Downs, are awaiting that outcome before moving ahead with the new form of gaming.

Tom Ludt, a racing commissioner who is president of the Vinery racing and breeding operation, raised the question of whether the racetrack operators were doing enough to find creative ways in which Kentucky tracks could remain competitive in view of the competition from racing states that have alternative gaming. He noted that Vinery is moving more of its operations from Kentucky to New York, where a video-lottery-terminal casino is scheduled to open later this year at Aqueduct and will have a major impact on increasing purses at the state's tracks.

"I don't see any cooperation or an understanding of what we are going to do to make our game different in 2012 from what we did in 2011," said Ludt, who is also chairman of the Breeders' Cup board of directors. "Our game is going in the wrong direction and we just went through a procedure identical to last year."

Betsy Lavin, a commissioner whose family operates Longfield Farm, responded that she believed the tracks were trying to be innovative, given the constraints under which they are operating without the benefit of purses boosted by casino type gaming. She cited the new mobile application wagering system implemented by Keeneland, Churchill Downs' decision to schedule its night races on Saturdays rather than Fridays during the spring meet, implimentation of Instant Racing at Kentucky Downs, and Turfway Park's expenditure of $100,000 to prepare for Instant Racing.

"I heard that people are trying," Lavin said. "I don't think they are making great strides but I don't think it's for a lack of trying new products."
Dr. Foster Northrop, a veterinarian whose livelihood is tied to Kentucky racing, agreed with Ludt.
"The basic date system is the same and the basic date system is not working," Northrop said. "I was hoping that from last year (when dates were considered) to this year there would be something different and I'm disappointed that it is the 'same-old same-old.'

"The state of Kentucky is in trouble. I just see us getting us swallowed up. I will either get out of the business or move."

Turfway Park president Bob Elliston explained there are many factors that go into decisions by the racetracks as to when to race, how many dates to race, and when and how to offer simulcasting. He said on-track wagering represents only 15% of the track's revenues and that the attractiveness of Turfway's simulcast signal is directly related to field size and the quality of the races being offered, all of which are tied to the size of purses.

Elliston noted that it is difficult for Kentucky tracks to compete with tracks in Pennsylvania, citing a report showing that state's tracks and breeders' program received $275 million in revenues from casino style gambling at the tracks. "There is a limit to what we can do," he said.

John Ward, a Kentucky-based trainer, said it was important for the racetracks to do whatever they could to retain a strong racing circuit within the state. He said one way tracks could help in that regard would be to schedule racing on more days, even if it meant some of those days would be unprofitable.
Churchill Downs president Kevin Flanery said one reason the tracks race the number of days they do is because "there is an issue of how many times you can ask the customer to come to your facility."

Flanery said Kentucky's tracks are being innovative in how they are presenting live racing on-track, but that the bulk of revenue comes from off-track betting sources.

"We have a multitude of problems," Northrop said. "Expanded gaming would solve most of our problems, but we don't have it. So we have to try figure things to put band-aids on."
Ludt also asked the racetrack executives to "throw something controversial" at the dates' committee to try some new approaches in how they conduct their business.

"For $20 a day, why bother," Ludt said in reference to a statement from Anita Ratliff, general manager of the Thunder Ridge harness track in Prestonsburg, Ky., handled only $18 in on-track wagers during several days of the past meet.

Lavin questioned whether Ludt was suggesting the revocation of racing dates to pressure the state to do something about the declining economics of the racing industry.

Ludt emphasized that he was not criticizing any one track, but merely trying to provoke the track executives to be more innovative.

Ward questioned why Churchill was willing to give up the July 4 date to Ellis Park, a move that he said would result in fewer dollars wagered in the state and less money for purses.

"We're going to see a huge difference in handle between Churchill and Ellis," Ward said. "Do we represent the state of Kentucky to maximize profits to the state, or the tracks to maximize profits to the tracks, or the horsemen?"

Ward's question prompted KHRC chairman and dates committee chairman Robert Beck to respond that "I don't know that we're here to maximize anybody's profits."
Flanery said July 4 has historically not been a large wagering day at Churchill Downs, even when it falls on a weekend. With a midweek holiday this year, he said it made more since to everyone involved for Churchill to end its meet on the preceding weekend.

Beck said he had voiced his concerns over the past several years about the possible decline of the year-round racing circuit in Kentucky and had implored the racetrack executives to "think outside the box" in arriving at solutions.

"I think what we heard today was a lot of innovative ideas about how an individual track can bring people to that track, but it hasn't seemed to me there has been much communication or much creative thinking as a group and that is probably a natural thing," Beck said.

Beck said he would try to convene a meeting of racetrack representatives, as he had in the past but was unable to do so this year due to scheduling conflicts, to try to come up with some solutions to Kentucky racing's problems.

The dates approved up the committee, which now must be approved by the full KHRC, are:

THOROUGHBRED TRACKS
Churchill Downs (59 days): April 28-June 30; Oct. 28-Nov. 25
Ellis Park (30 days): July 1-Sept. 3
Keeneland (32 days): April 6-27; Oct. 5-27
Kentucky Downs (6 days): Sept. 8, 10, 11, 15, 17, 18
Turfway Park 83 days): Jan. 1-April 1; Sept. 6-30; Nov. 29-Dec. 31

STANDARDBRED TRACKS
Players Bluegrass Downs (15 days): June 15-July 15
Red Mile (29 days): Aug. 5-Oct. 7
Thunder Ridge (21 days): April 12-May 26

Copyright © 2015 The Blood-Horse, Inc. All Rights Reserved.