Championships on NBC Through 2005
by Blood-Horse Staff
Date Posted: 10/23/2001 4:21:35 PM
Last Updated: 10/23/2001 10:32:56 PM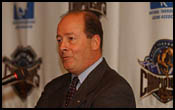 Breeders' Cup president D. G. Van Clief Jr.


The National Thoroughbred Racing Association, Breeders' Cup, and NBC Sports have agreed to a four-year extension that will keep the Breeders' Cup World Thoroughbred Championships on NBC through 2005, officials from the organizations announced Tuesday at a press conference in New York City. The Breeders' Cup has been televised on NBC since it began in 1984. As part of the agreement, NBC will also televise a preview show each year from Belmont Park three to four weeks prior to the World Thoroughbred Championships to be produced in partnership with the New York Racing Association. There also will be additional advance promotion of the event."We are pleased to continue and build upon our longstanding relationship with NBC which has done such an outstanding job of televising this event since its beginning," Breeders' Cup president D.G. Van Clief, Jr. said. "We look forward to another four years on NBC and appreciate the network's commitment to horse racing."Said Ken Schanzer, President, NBC Sports: "NBC has been home to the Breeders' Cup for the past 17 years, and we are delighted to extend our partnership with them and continue to telecast this remarkable event. With the Breeders' Cup and the recent acquisition of the Visa Triple Crown, NBC Sports is home to the best of Thoroughbred horse racing." In addition to televising the World Thoroughbred Championships, NBC's five-year contract to televise the VISA Triple Crown began this year.NBC's coverage of the Breeders' Cup has won Eclipse Awards for National Television Achievement, as well as an Emmy Award for Outstanding Live Sports Special of 1992. NBC will televise this year's Breeders' Cup World Thoroughbred Championships live Oct. 27 from Belmont from 1-6 p.m. (EDT).It was also announced that the next three renewals of the Breeders' Cup will be held on the last weekend of October, at the respective provisional sites of Arlington Park (2002), Santa Anita (2003), and Churchill Downs (2004).



Copyright © 2015 The Blood-Horse, Inc. All Rights Reserved.