Keeneland Yearling Sale Surpasses 2010 Total
by Ron Mitchell
Date Posted: 9/19/2011 8:57:50 PM
Last Updated: 9/21/2011 10:40:58 AM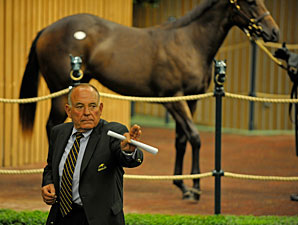 Keeneland September Sale
Photo: Anne M. Eberhardt
Any questions about whether the Keeneland September yearling sale would have staying power beyond the first week were answered Sept. 19 when the auction's receipts went beyond the entire 2010 sale gross, with eight sessions elapsed and five days remaining.

According to Keeneland, 1,631 yearlings have been sold for a total of $198,638,200, surpassing total gross receipts in 2010 of $198,254,900 for 3,059 yearlings sold during a 14-day sale. Cumulative through Sept. 19, the average price was $121,789 compared to $99,973 in 2010 and the median price of $75,000 outpaced the $60,000 figure of last year. The sale continues through Sept. 24, with another 1,916 cataloged horses remaining.

During the Sept. 19 session, 306 horses were sold for $12,233,200, an increase of 53% over 2010 when 297 horses brought $7,995,400. Average price for the day of $39,978 rose 48.5% over last year's average of $26,921. The median price of $25,000 was up 38.9% over the $18,000 posted in 2010.

The percentage of horses sold was 82.7%, compared to 80.5% for the same session last year.

The vibrant market Sept. 19 was fueled by a healthy compliment of buying from domestic and international buyers. Among the countries represented on the sale sheet were Russia, Panama, Mexico, Japan, South Korea, Hong Kong, Italy, Ireland, and England. "We have a big international presence here now," said associate director of sales Tom Thornbury.

"The consignors set very conservative reserves and the market was scooping up everything," Thornbury said of the robust activity during the session. "It's a very active market, but it's not been wild and crazy. Consignors have been battling for several years, and now with the lower production costs they have in these horses, they can sell them."

The session's top price of $230,000 was paid by trainer Mark Casse for an Ohio-bred daughter of Sky Mesa (Hip No. 2242) consigned by Judy Klosterman, agent for her Langsem Farm. The filly was produced from Floral Park, a winning daughter of Forest Wildcat. Included in the filly's female family are grade I winner and grade III producer Chelsey Flower.

"She's a beauty," said Casse, whose stable is based in Canada during the summer and Florida in the winter. "This filly was just a standout. As long as she stays as good as she is now, I would be very happy. Initially, I didn't have that filly down to look at and I was looking at another horse when I saw her walk by. I told my wife to find out who that horse was. When I looked at her, I thought she was as nice of horse as I have seen in the entire sale and I would say I have looked at about 500 of them. I really like Sky Mesas."

The session's second highest price of $220,000 was shared by a Lion Heart colt and a Tale of the Cat colt.

Cash Asmussen, acting as agent for the Hong Kong Jockey Club, purchased the Pennsylvania-bred Lion Heart colt out of the Royal Academy mare Silent Academy. The colt, consigned as Hip No. 2029 by Mr. and Mrs. Rick Abbott's Charlton, agent for Maple Leaf Farm, is a half-sister to the multiple graded stakes winner Sweet August Moon.

"Wonderful horse. Great individual on the day," said Asmussen, who purchased eight horses for the HKJC for $987,000. "We were looking for horses that have a little more speed than in the past because we're concentrating on sprint or mile races. He fit the bill.

"We've had to have a lot of patience," Asmussen said. "There's a certain type of horse we are looking for and within a certain price range that makes sense for us to be able to resell in Hong Kong. The horses will be trained here and then sent over to Hong Kong for resale."

Bloodstock agent Bob Feld paid $220,000 on behalf of Kevin Plank's Sagamore Farm for the Tale of the Cat colt out of the Point Given mare Darling Temper, a half-sister to grade 1 winner Early Pioneer. He was consigned by Eaton Sales. The colt was bred in Kentucky by Mark Stanley and purchased by Sugar Valley Partners for $25,000 at this year's Keeneland January Horses of All Ages sale.


Copyright © 2015 The Blood-Horse, Inc. All Rights Reserved.