September Sale Talk: What's Going to Happen?
Updated: Sunday, September 11, 2011 3:20 PM
Posted: Saturday, September 10, 2011 8:36 PM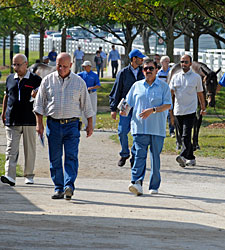 Photo: Anne M. Eberhardt
Sheikh Hamdan of Dubai, right, was the September auction's biggest spender in 2010.
Sheikh Hamdan of Dubai showed up at Keeneland Sept. 10, and he and his entourage were busy in the barn area, which excited consignors with young horses entered in the September yearling sale.
In the name of his Shadwell Estate Co., Sheikh Hamdan was the September auction's biggest spender in 2010, paying $8,230,000 for 22 horses. He also led the way in the select sessions, spending $5,110,000 to acquire 12 yearlings.
We didn't get a comment from Sheikh Hamdan about the prospects for the largest sale of its kind in the world, which begins Sept. 11 in Lexington. But here is what some other people had to say:
Bill Farish, Lane's End: "I feel pretty optimistic about the sale. While I don't think anybody is expecting any huge gains, I don't think it's going to be down very much either. I think it's going to be pretty solid. It seems like there are quite a few people here. We're showing horses like crazy, and we hope that will continue."
Samantha Siegel, Jay Em Ess Stable: "I think it's going to be tough to buy as usual. Good horses are always hard to buy. With the (Fasig-Tipton) Saratoga (select) sale and the Ocala sale being strong, people might be getting a little bullish again. Unfortunately, when the foal crop gets smaller, it's not just the bad ones that disappear. The good ones disappear, too. But it's always a battle for the nice ones."
Mark Toothaker, Pauls Mill: "Traffic has been good; we've stayed busy. We've just got one horse in this first book (of the sale catalog). He is a half brother to Malibu Moon and he's been popular. Just looking around at the other consignors, it's been very busy. The way other sales have gone so far, everything has kind of held its own. I'm looking for kind of the same thing here."
Randy Hartley, Hartley/De Renzo Thoroughbreds: "There are good horses here, and I think this is going to be a good sale for the good horses. People just love buying quality and right now in this market, I think that's where it's going to be happening at. It's going to be very tough for us to buy. To come away from here in the first two books with two colts and two fillies would be nice. Chances are we'll get one colt and one filly, if we're lucky."
Jody Huckabay, Elm Tree Farm: "As always, I think if you have the right horse— if you've got the pedigree, you've got the physical, and you pass the vet—there is plenty of money out there and available. But you have to check all the boxes. The average horse anymore is a hard sell. You have to have that special individual to get the big dollars. There's still a big supply compared to the amount of buyers that we have and everyone wants that special horse."
Meg Levy, Bluewater Sales: "I was pleased with the way it went in Saratoga, and I think we are going to see more of the same here. I'm hoping that supply will meet demand like it did in Saratoga. The best horses are going to sell well. I'm hoping the economic issues in Europe haven't affected the buyers from there too much. We've seen a lot of Japanese buyers. I'm happy with the traffic so far. I've seen more Europeans and Japanese than I have Americans looking at horses in Book One (of the sale catalog)."
Eddie Woods, Florida pinhooker: "We've done well out of the first book (of the sale catalog) when we've gotten something bought because you get a lot of pedigree and a lot of bang for your buck. But it's hard to get one and it's supposed to be. The sales have been good so far; there's no reason to think this one would be any different. Things are pretty steady now."
Matt Lyons, Woodford Thoroughbreds: "I'm very hopeful because we've done well at every sale we've gone to so far. There has been a lot of traffic here. Every horse we had was shown 55-plus times yesterday (Sept. 9). Mostly we're seeing the same people, but they're here and they're busy and they're looking hard."
Reiley McDonald, Eaton Sales: "I think the sale will be much like last year. I don't see anything here on the grounds that would influence (it to be) a different market than we saw in 2010."
Michael Hernon, Gainesway: "Based on viewing (by shoppers), this will be a very solid sale for the right article. The quality horses that vet are finding favor and again, the bar is raised high. You've got to have the pedigree, you've got to have the physical horse, they have to show well, and then of course, they have to vet. There is a strong international group of buyers represented. The U.S. dollar is currently quite favorable on the exchanges so that gives foreign buyers a good advantage, and we expect good reception for several of the horses that appeal to the overseas market. We've had Japanese groups by here. I think we're going to kick off with a strong, deep sale."
Alfred H. Nuckols Jr., Hurstland Farm: "I think the first two books of the sale are going to be a lot of fun. The right people are here and there is a lot of activity. I think the sale will be good and solid. You probably won't have the real breakout horses like you used to, but I think the top end is going to be pretty strong. I wish it was a New York-bred sale; that would be really fun."
Pat Costello, Paramount Sales: "I'm quietly optimistic. All the sales so far have been good—Saratoga, Doncaster, Deauville, OBS. I'm not sure how much it is going to be up, but I think it will be a good sale."
Tom VanMeter, VanMeter Sales: "I am cautiously optimistic, really. There is a good mood around the campus here and with fewer horses, I think the average will be up. Everybody kind of wants to make the connection between the global world and us, but I really think a lot of times we're insulated."
FREE! E-Newsletters from The Blood-Horse!...
Follow the top stories of major racing events, racing previews and results with FREE e-newsletters from bloodhorse.com. As news develops, we'll deliver updates to your inbox. Follow important events moment by moment, step by step!