Stallions, Mares Bred Both Decline in 2001
Date Posted: 10/18/2001 9:58:51 AM
Last Updated: 3/6/2002 3:45:35 PM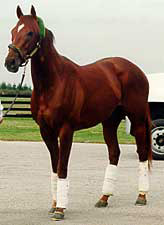 Thunder Gulch, became the first to cover more than 200 mares in one northern hemisphere season.


The number of stallions and mares bred in 2001 both decreased, and Thunder Gulch became the first Thoroughbred stallion in North America to cover over 200 mares in one northern hemisphere season. Those were some of the numbers contained in the Report of Mares Bred, which was released Thursday by The Jockey Club.Reports have been received through Oct. 12 for 3,457 stallions which covered 58,298 mares in 2001. Another 400-600 reports are expected, but normally are not reflective of major commercial stallions or mares. The number of stallions declined 6.1% from the 3,681 reported at this time last year, while the number of mares bred decreased for the first time since 1995, slipping 2.5% from the 59,785 reported at this time in 2000. "Although stallion book size continues to increase, the fact that fewer mares were bred coupled with the impact of Mare Reproductive Loss Syndrome in Kentucky will weigh significantly on next year's foal crop, which we cautiously projected at 35,600 back in August," said Matt Iuliano, The Jockey Club's vice president of registration services. The number of stallions bred to 100 or more mares decreased from 82 last year to 77 in 2001. Thunder Gulch led all stallions with 216 mares bred. States in which a stallion covered at least 100 mares were Kentucky (54 stallions); Florida (11); California (4); Maryland (3); New York (2); Texas (2); and Oklahoma (1).RMB statistics for all reported stallions in 2001 are available on The Jockey Club web site at http://home.jockeyclub.com/maresbred/2001/index.html.



Copyright © 2015 The Blood-Horse, Inc. All Rights Reserved.