All Gong Heads BC Steeplechase
Date Posted: 10/17/2001 12:04:35 PM
Last Updated: 10/18/2001 9:24:09 AM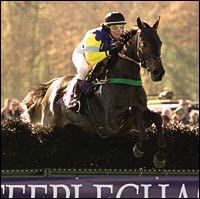 All Gong, seeks to duplicate last year's Breeders' Cup steeplechase victory.


Last year's Steeplechase Eclipse Award winner All Gong takes on eight opponents in the $250,000 Breeders' Cup Steeplechase (NSA-I) to be run Saturday at the Far Hills Races in Far Hills, N.J.The field of nine matches last year's total for entries, but exceeds it in terms of competitiveness. The field includes six grade I winners, and boasts combined steeplechase earnings of more than $1.6 million."It's a very select group, they are all very competitive," said trainer Bruce Miller, who will saddle All Gong and Yellowroad. "Whoever gets the best trip is going to have the best chance of winning."The trip shapes up to be a tactical one with speedy types like It's a Giggle, Quel Senor, and All Gong in the field. Pinkie Swear, Yellowroad and Praise the Prince ought to be able to stalk while closers Flasher, Hokan, Lord Zada will hope to be pulled along by a fast pace before making their moves. All Gong set a course record of 4:53 4/5 for the 2 5/8 miles while racing close to the pace last year, but Miller would rather see his horses back off the early speed."I hope It's a Giggle runs his race on the front end and puts some speed into the race," said Miller. "I would like to see a speedy race early."Trainer Jonathan Sheppard put enough speed into It's a Giggle this summer for the horse to win three races at Saratoga. The streak began in a $35,000 claiming hurdle and culminated in a wire-to-wire win in the New York Turf Writers Cup (NSA-I). Idle since that win on Aug. 30, It's aGiggle carries championship hopes and stands third on the National Steeplechase Association earnings table. Top English jockey Mick Fitzgerald will be in for the ride.All Gong, installed as the 4-1 second choice in a mythical morning line (there is no betting at Far Hills) by NSA director of racing Bill Gallo, has finished second in all four of his 2001 starts. The latest came in a Sept. 29 prep for the Breeders' Cup at Shawan Downs in Maryland. Fourth in his tuneup race before the Breeders' Cup last fall, All Gong needs to win to keep any hopes of repeating his 2000 Eclipse Award-winning season. Regular jockey Blythe Miller, who rode It's a Giggle this summer, gets the call.Stablemate Yellowroad could provide a serious test for All Gong. The 6-year-old makes his 2001 jump debut, but is unbeaten in two starts over the Far Hills course including a win over superstar Pompeyo. The son of Badger Land won training flat races on each of the past two weekends, and is as ready as Miller can have him. David Bentley gets the jockey assignment.Despite being the 2001 earnings leader with $208,242, Praise the Prince gets overshadowed in the field thanks to a record built mostly against restricted competition. The New Zealand bred won two-thirds of the Steeplechase Triple Crown against novice hurdlers this spring, and won an open grade II at Saratoga but came up short in the Turf Writers and is listed at 9-5 by Gallo. Trained by Sanna Neilson, who also entered Lord Zada, Praise the Prince will be ridden by runaway jockey leader Gus Brown.The Breeders' Cup Steeplechase is the richest race run over fences in the U.S., and will be contested at 2 5/8 miles. The weight-for-age race is part of a championship day at Far Hills, which offers six races worth $475,000 in total purses. First post is 1 p.m., with the Breeders' Cup set to run at about 3 p.m. as the day's fourth race. The Far Hills Races will be run for the 81st time, with another sellout crowd of 45,000 or more on hand. The steeplechase meet benefits New Jersey's Somerset Medical Center, and has contributed more than $12 million over the years.The Breeders' Cup Steeplechase will be televised on a one-day delay as part of the "NTRA Racing to the Breeders' Cup" series' final installment, Oct. 21, on ESPN2 at 2:30 p.m.The field in post position order with owner; trainer; and jockey (all starters carry 156 pounds):1. Flasher; Daybreak Stable; Jimmy Day; Chip Miller
2. Praise The Prince; Augustin Stable; Sanna Neilson; Gus Brown
3. Hokan; Nancy Gerry; Janet Elliot; Robert Massey
4. All Gong; Calvin Houghland; Bruce Miller; Blythe Miller
5. Pinkie Swear; Arcadia Stable; Jack Fisher; Carl Llewellyn
6. Yellowroad; Kay Jeffords; Bruce Miller; David Bentley
7. Quel Senor; Coppertree Stable; Tom Voss; Cyril Murphy
8. It's A Giggle; Bill Pape; Jonathan Sheppard; Mick Fitzgerald
9. Lord Zada; Augustin Stable; Sanna Neilson; J.W. Delozier



Copyright © 2015 The Blood-Horse, Inc. All Rights Reserved.