Pleasant Colony Colt Sells For $400,000 At Keeneland
by Deirdre B. Biles
Date Posted: 10/16/2001 2:42:47 PM
Last Updated: 10/26/2001 11:43:15 AM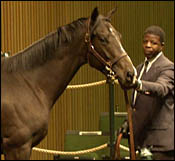 Pleasant Colony colt, sold for $400,000 at Keeneland's October yearling sale.
Photo: Anne M. Eberhardt

A Pleasant Colony colt, who is a half-brother to Del Mar Futurity (gr. II) winner Forest Camp, sold for $400,000 Tuesday during the final session of the Keeneland October yearling sale. He was purchased by Kentucky bloodstock agent John Moynihan, who said he was representing one his longtime clients, Martin Cherry of Florida. The price was the highest of the auction.Produced from the multiple stakes-winning Hold Your Peace mare La Paz, the racy-looking colt was consigned by Pat Costello's and Gabriel Duignan's Paramount Sales. The colt was owned by a partnership, but Costello declined to identify its members. Duncan Taylor of Taylor Made Farm near Lexington said Taylor Made had a small interest in the colt, who was scheduled to be sold at the Saratoga yearling sale, but got sick. Bred in Kentucky by John R. Gaines Thoroughbreds and Twin Creeks Farm, the colt was purchased for $500,000 as a weanling by Chad Johnson, agent, at the last year's Keeneland November breeding stock sale."He would have brought quite a bit more if he had sold at Saratoga or Keeneland in September," said Moynihan, who had tried to buy the colt as a weanling, but remembered stopping at about the "$400,000 range." The colt, according to Moynihan, looks like he will be able to go two turns, but will also be quick. Moynihan said Cherry will race the colt."You win some, and you lose some," Taylor said. "We were about at the end of line, so it was either race or sell. Considering what the market's done and everything that's going on, we decided to let him go. Somebody got a good deal."Overall, business was brisker on Tuesday than it had been during Monday's dismal opening session. The 178 yearlings sold on the second day grossed $2,982,400 and averaged $16,755. The median was $6,100. All those figures represented increases over Monday's results. The buy-back rate decreased from 43.1% on Monday to 33.5% on Tuesday. The number of horses that did not receive a bid dropped from nine to two.For the two sessions combined, 338 yearlings were sold for a gross of $5,092,900, an average of $15,068, and a median of $5,200. The buy-back rate was 38.4%."The first day was very tough, but today it evened out; the 'not solds' are more palatable," said Geoffrey Russell, Keeneland's director of sales. While many of the results were not positive, Keeneland did achieve its goal of an average in the $12,500 to $15,000 range, according to Russell.This was the first year that Keeneland had offered an October yearling auction."It takes a sale two or three years to get established and get in people's minds," said Russell, who added that the auction was conducted under difficult circumstances including the war on terrorism, the recent anthrax scare, and the slumping American economy.Five horses sold for $100,000 or more. The sale's second-highest price also was recorded on Tuesday when Cecil Seaman, agent, payed $157,000 for a Banker's Gold--Time for a Buck colt that was consigned by Mill Ridge Sales, agent.



Copyright © 2015 The Blood-Horse, Inc. All Rights Reserved.