California Racing Execs Address Online Gaming
by Jack Shinar
Date Posted: 7/13/2011 5:17:30 PM
Last Updated: 7/14/2011 9:36:06 AM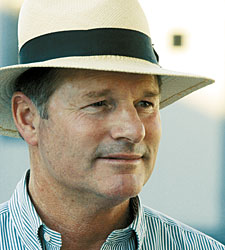 Richard Mandella was present at the meeting.
Photo: Anne M. Eberhardt
As California eyes potential revenue from Internet gaming, horse racing executives made it clear to a state senate committee in Sacramento July 12 they want to be part of any legislation that may result.

Lawmakers want to take advantage of the lucrative market by attracting players who reside in the state to games operated under California rules regulating and taxing online poker.

Two bills that would legalize such gambling were the subject of a three-hour informational meeting before the Senate Governmental Organization Committee, which oversees gaming in California. No action was taken with the State Legislature due to take a recess until mid-August.

A day after the hearing, Chris Korby, executive director of the California Authority of Racing Fairs, said he was "encouraged to see the unanimity and solidarity that was there on behalf of all aspects of horse racing -- the owners, trainers, breeders, and racing associations, both for Thoroughbreds and Quarter Horses."
Korby said industry representatives are planning to draft language that they would like to see included in any amended version of the bills.

One of the bills, SB 40, has the support of a coalition of Indian tribes and card clubs that are pushing to limit Internet gaming to only poker-style games not being conducted at the brick-and-mortar facilities. A second measure, SB 45, would not have such a limit on games and would also be open to horse racing associations hoping to apply for operational licenses.

Senator Lou Correa (D-Santa Ana), author of SB 40, believes authorizing such wagering within California would generate $250 million the first year in new revenue to the state. He is urging quick resolution by the state to establish legality before Congress takes similar action at the federal level.

Several industry racing representatives were on hand to provide their views during the hearing.

Jack Owens, chairman of the Thoroughbred Owners of California, noted that advance deposit wagering on horse racing is the only form of Internet gaming that is currently legal. He said he was concerned about the effect of other Internet wagering on every aspect of the sport. The state estimates that more than 1.5 million Californians are currently wagering illegally with some 600 unregulated Internet poker websites.

"It's imperative we get parity in this bill," said Joe Harper, president of the Del Mar Thoroughbred Club, speaking on behalf of the industry. "It's a double hit if we don't. We will be heavily impacted by Internet poker. There are a lot of problems with this industry and a lot of it has to do with competition, much of it unfair in my opinion. This is the most important piece of legislation to come up in a long time and I just urge you to keep parity for horse racing with Indian gaming and the card clubs."

Robert Hartman, representing Golden Gate Fields and Santa Anita for The Stronach Group, added: "We're looking for a license to conduct on-line poker. That's what we're looking for. We need it for parity with the card clubs, for parity with the Indian casinos.
"Golden Gate Fields, where I'm the general manager, we're going to be down to three days of racing. We have employees that used to work five, six days a week; they are going to be down to three days a week. Without an internet poker license we are probably going to be out of business in a couple of years."

Owens and Sue Greene, current president of the California Thoroughbred Breeders Association, emphasized the importance of racing to the state's agricultural and tourism business. They pointed to the ground lost in California to states subsidizing purses through other means of gaming.

"Indian gaming was a blow to us," Greene said. "I don't know how many more blows we can take."

John Harris, a major breeder and owner in the state and a member of the California Horse Racing Board since 2001, noted that the exclusive right to conduct ADW has made it a major part of horse racing revenue in the state. "It's critical we look at what sort of mitigation we can get for horse racing in this bill," he said.

Committee chairman Senator Roderick D. Wright (D-Inglewood), author of SB 45, wondered if that meant that racing was looking to be subsidized by other entities.

"I think we want to be a part of the process," responded Bernie Thurman, representing Hollywood Park. "We aren't looking for a hand-out. We want to have an even playing field, to be at the table."

Wright suggested that racing associations, if they were not licensed operators of new gaming sites, could partner with other entities to make sure racing has a place on such platforms.

"I'm trying to understand how we make this work," he said."What can we do to help you absent taxing other entities?"

Two Hall of Fame trainers, Bob Baffert and Richard Mandella, also made the trek to Sacramento from Southern California.

"Believe me, nothing compares to the race tracks we have in California," Baffert told the committee. "But it's getting tougher and tougher. I see my fellow trainers struggle. It's gotten to the point that it's forcing us to ship our horses out of state. This is the best thing I've heard in a long time to stimulate horse racing in California."

Mandella agreed with Baffert on the pressure trainers feel from owners to leave the state looking for a more lucrative locale. "I'm a Californian. I want to stay here. But the horse population here occupies about half of the stable space that it used to. Racing can't take many more blows."

Committee member Tom Berryhill (R-Stanislaus), said, "I think there's a way we can make this thing happen. But I think that rather than ask for this to be a welfare check, I think we have to look at ways to make this a partnership that will keep horse racing viable. We don't want to lose you."

Wright, noting that his is not a sponsored bill favoring particular vendors or interest groups, touted SB 45 as having a protective regulatory framework which "will produce the maximum rate of return to California."

He also believes the state would be making a mistake by limiting gaming to poker when other games are being developed. Rather than list or exclude particular types of wagering, he said SB 45 would only limit on-line gambling to those games which meet the existing restrictions in the state constitution and penal code.

Other witnesses testified on the likely fiscal impact Internet gaming would have.

Former State Finance Director Tim Gage, who analyzed the revenue potential of online poker in California, testified that by authorizing online poker, California can generate more than $1.4 billion in new revenue over the next 10 years and 1,300 new jobs.

"We can't afford to do nothing," Correa said in support of his measure. "We can't delay. If we do, the revenue will be lost, the jobs will be lost and the opportunity will be lost."
Copyright © 2015 The Blood-Horse, Inc. All Rights Reserved.