River Downs Cancels Wednesday Racing
by Blood-Horse Staff
Date Posted: 6/22/2011 12:42:33 PM
Last Updated: 6/23/2011 10:07:20 AM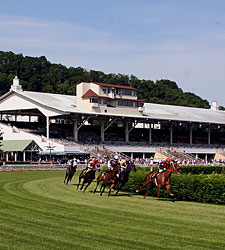 River Downs
Photo: Courtesy River Downs
River Downs near Cincinnati, Ohio. has canceled live racing for Wednesday, June 22, due to the rain-soaked track conditions as a result of recent thunderstorms in the area that resulted in postponement of the June 21 New York Yankees-Cincinnati Reds baseball game.
The National Weather Service was predicting more thunderstorms for the area Wednesday afternoon.

"In the interest of the safety of the horses and riders we closed the main track for training this morning and racing this afternoon," track publicist John Engelhardt said in a release. "Our track crew will be doing their best to get it ready for live racing on Thursday. We hate to lose a live day as well as things are going."
Copyright © 2015 The Blood-Horse, Inc. All Rights Reserved.