Steeplechase Champion George Sloan Dead at 62
by Lenny Shulman
Date Posted: 10/11/2001 12:16:41 PM
Last Updated: 10/13/2001 6:11:26 PM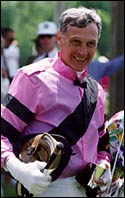 George Sloan
Photo: Anne M. Eberhardt

George Sloan, champion amateur steeplechase jockey and chairman of the International Steeplechase Group (ISG), was found dead at his Franklin, Tennessee, farm Oct. 10. According to Detective Rick Hagan of the Williamson County Sheriff's Department, Sloan died when the rifle he was carrying accidentally discharged while Sloan was working on a fence at his Panorama Farm. He was 62."From everything we can tell right now, unless the autopsy and toxicology turn up something different, it looks like an accidental shooting," said Hagan. "It's a terrible accident. He always carried a weapon when he was out on his farm, and it likely occurred Tuesday while he was working his fences. The toxicology results won't be finished for five-six weeks."Sloan, a native of Franklin, was born into horses. His grandfather started fox hunting in Nashville in the 1920s, and his father and grandfather started the Iroquois Steeplechase in that city. "I rode in pony races when I was eight," Sloan said. "I didn't have any choice."Sloan went on to win the U.S. Amateur championship in steeplechase riding in 1970 and was runner-up three years later. His biggest claim to fame occurred in 1978 in England when he captured one of that nation's most traditional sporting titles, the British Amateur Steeplechase Championship, becoming the first foreigner to do so. It is a feat compared to having a British baseball team come to America and win the World Series.The British took to this foreign invader as though he were a cup of premium tea. He met both Queen Elizabeth and the Queen Mother, both of whom pronounced themselves great fans of his. He was recognized throughout the United Kingdom, and praised in the British press, who took to calling the slender American 'The Sloan Ranger.'Sloan split time between the two countries, took a British bride, and became a corporate lawyer, and then a successful businessman in Tennessee, owning a string of Minnie Pearl Fried Chicken restaurants as well as the Cosmopolitan Health Spa chain. But it was his efforts to popularize steeplechasing in America that took up most of his time in his later years.He was a founding director and the driving force behind the International Steeplechase Group, which he formed in 1987, to foster steeplechasing competitions, encourage international goodwill, support amateur competitions, and aid worthy charities. The group became a huge success, and is responsible for sponsoring, promoting, and holding major steeplechase competitions at racetracks around the country.Steeplechasing had once been a staple at racetracks on the east coast, with as many as one event per day. It had fallen out of favor until Sloan guided it back. Today, the ISG sponsors races at Keeneland, Arlington Park, Tampa Bay Downs, and holds an event at each of the three Triple Crown racetracks in the days before the Kentucky Derby, Preakness, and Belmont. It also has events throughout England and in Wales."We're selective about where we go," Sloan said in an interview earlier this year. "We're slowly building support for steeplechasing, and you can sense its popularity by seeing the crowds and the enthusiasm. Steeplechasing delivers."Sloan quit race-riding in 1995, when he was 56. "I was always a skinny little kid," he said. "I didn't realize how lucky I was until I got older and realized how long I lasted. Anyone who rides a long time breaks shoulders, collarbones, arms, and legs, but when you're doing it, you don't think about that. Not in the heat of battle."



Copyright © 2015 The Blood-Horse, Inc. All Rights Reserved.