John Fort's Shopping List
by Deirdre B. Biles
Date Posted: 5/17/2011 11:44:20 AM
Last Updated: 1/22/2013 1:53:14 PM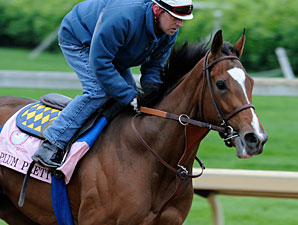 Plum Pretty
Photo: Skip Dickstein
Price has always been a consideration for John Fort when shopping for Thoroughbreds. He's never had the luxury of being able to buy any horse he wanted, no matter the cost.
But budget limitations haven't kept Fort from achieving racing success at a high level. Plum Pretty, purchased for $130,000 by Fort, fought off the rallying St. John's River by a neck to capture the May 6 Kentucky Oaks (gr. I) at Churchill Downs. Fort, who races Plum Pretty in the name of Peachtree Stable, bought the daughter of Medaglia d'Oro at the 2010 Ocala Breeders' Sales Co.'s March select sale of 2-year-olds in training, where the most expensive horse commanded $525,000.
Earlier this year Fort won the Hutcheson Stakes (gr. II) with Flashpoint, a $100,000 purchase at the 2009 Keeneland September yearling auction, where four horses brought $1 million or more apiece. The son of Pomeroy is scheduled to run in the May 21 Preakness (gr. I) at Pimlico.
Invisible Ink, a $105,000 Keeneland September acquisition in 1999, carried Peachtree's colors to a second-place finish behind Monarchos in the 2001 Kentucky Derby (gr. I). In 2008, Red Giant took the 2008 Clement L. Hirsch Memorial Turf Championship Stakes (gr. IT) by a head over Out of Control after being bought by Fort for $350,000 at Keeneland during the 2005 September sale.
Other talented Peachtree runners acquired at public auction by Fort have included grade III winners Chimichurri, High Cotton, Shrike, and Twilight Meteor.
"It's like when you ask somebody to teach you to play poker," said Fort, explaining how he developed his eye for a horse. "They just say, 'Sit down and put your money on the table.' The general formula is you pay as you learn."
The 68-year-old horseman resident also called on some of the knowledge he gained about horses while playing polo.
Fort started near the bottom of the Thoroughbred marketplace, buying what he called "used up" racehorses for $500 apiece if they were sound and, after working with them for two months, reselling them as riding horses.
"You would be surprised at how quickly a racehorse can take to a new life with a little kindness," he said.
Fort eventually began breeding some of the fillies he acquired to inexpensive stallions and resold them when they were in foal at OBS auctions for $2,000 or so each.
"One thing led to another," Fort said, and he worked his way up to buying Hot and Happy, a son of Barachois, for $32,000 at OBS in 1980 when the horse was a yearling.
While Fort paid as he learned, he also sought information from sources outside the auction business. He worked several months for Calumet Farm at the racetrack, and he picked the brains of Hall of Fame trainers Allen Jerkens, Horatio Luro, and Angel Penna Sr.
"One day I was talking with Angel Penna at a 2-year-old sale at Hialeah," Fort said. "There was a horse somebody was looking at standing there and I said, 'Mr. Penna, what do you like?' He walked up to the horse, he wet his finger really good with spit, and he drew a line on the horse with his wet finger from the point of its withers to the point of its shoulder. Then he said: 'If that's a long line, he could be a good horse. If it's a short line, he won't be a good horse.' It was the simplest way of telling someone that if a horse doesn't have a good shoulder, he has no chance of running because he's going to have a short stride, and it's something I learned to visualize when I look at a horse."
But the person who influenced Fort the most as a judge of Thoroughbred body types was Kentucky veterinarian Robert Copelan.
"He is a very wise person about conformation," Fort said. "I've spent a lot of time talking to him, and he's pointed out things that were very important to me going forward. He has a word for every aspect of horse conformation and they basically involve other animals. Most people know a few of them like cow-hocked and calf-kneed, but I bet I could come up with 50 others. I ought to create a dictionary."
Following, in his own words, are some of the strategies Fort uses when shopping for horses:
• Be a lone wolf. "I've seen people going around the sales who have groups of advisers. There is a tendency in a situation like that to defer to other people and say, 'Oh, yeah, that sounds like a good idea.' I've also seen people who hire bloodstock agents that trail along behind them and have blank looks on their faces because they're not really making the decisions. Making the decisions yourself sharpens your mind and allows you to grow."
• Work briskly and efficiently. "I reject horses pretty quickly because I know exactly what I'm looking for. I think sometimes consignors maybe get a little frustrated with me because I work so fast. But I'm not going to waste their time or my time standing around if a horse comes out that I'm not going to buy."
• Think about the future. "I'm not looking for the horse that has matured or has been pushed into maturity too quickly. I'm looking for the horse that looks more like that girl at the age of 14 who is still pudgy and has pimples. When you see her, you say, 'If she spends three months in a gym, loses 20 pounds, and gets rid of that acne, she'll be a knockout.' Plum Pretty had a little bit of a raw-boned appearance as a 2-year-old and a little bit of a belly on her. She was sort of unfinished. She just needed time and a trainer like Bob Baffert."
• Look beyond the ankles and knees. "People stare endlessly at knees and ankles when they are looking at yearlings. They (the joints) can provide an indication of how likely a horse is to stay sound, but they make up only a small portion of what you're considering when you're trying to buy a horse. For instance, would you rather buy a horse that had the shoulder, hip, and length that would lead you to think he would become a grade I winner, but was a little offset in the knees, or would you rather buy one whose legs were perfectly straight and put its feet down on the ground absolutely flawlessly, but didn't have much length to its shoulder? A racehorse runs from its hind end; that's where all its power comes from. If you look at most of the truly great racehorses in history—and I would use Seattle Slew and Secretariat as prime examples—they had extremely straight hind legs. A racehorse should be slightly longer than it is tall. One that stands way up in the air isn't the right type for me."
• Observe the eyes and ears. "When a yearling comes out of its stall, watch its ears. It will give you a true read of the intelligence and the nature of the horse. Watch the eye movement and how quickly a bright-eyed horse comprehends everything that is going on. Watch how much it is taking in with those ears. If it's turning those ears from side to side, it means it wants to grab all the information that is close to it. That's a very good thing if you want a fast horse."
• Study pedigrees to determine the upside. "I eliminate some horses based on pedigree because I don't think there is enough upside. For example, there were a lot of horses in the Kentucky Oaks that, had they won, they would not have had nearly the value that Plum Pretty would have because she is by Medaglia d'Oro and out of an A.P. Indy mare. You should try to develop a financial model for every horse and determine what it will be worth if it breaks its maiden and what it will be worth if it wins a stakes. If you invest your money in a horse that is going to have limited upside potential (based on pedigree), you're probably making a mistake."

• Don't overlook the medium-sized horse. "A lot of people just walk right by the medium-sized horse because they want a big horse. I relate that to buying puppies. If you're picking out a puppy from a litter, the first one you look at is the biggest one. That's just human nature. But if a horse is already 16 hands or thereabouts as a yearling, I can tell you one of two things will be very likely. He's either going to get too big or he's been pushed in his growth cycle and he won't get any bigger. You're looking at the finished product. He's like the eighth grade boy who is the king of his football team. The other boys, when they get to be 17 or 18, are going to go right by him like he was tied to a tree. They'll go to Harvard. He'll end up pumping gas."

Copyright © 2015 The Blood-Horse, Inc. All Rights Reserved.