KHRC Committee Denies Dutrow's License
Updated: Thursday, April 14, 2011 2:21 PM
Posted: Wednesday, April 13, 2011 7:29 PM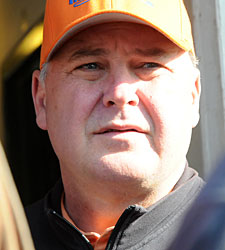 Photo: Mathea Kelley
Rick Dutrow
The Kentucky Horse Racing Commission's license review committee voted unanimously April 13 to not issue a license to trainer Rick Dutrow.
The action came after a one-hour hearing before the committee in which Dutrow was questioned about the lengthy list of violations on his record and inconsistencies on his license applications this year and in previous years.

Following the hearing, the committee met in executive session for more than an hour before telling Dutrow of its decision. The hearing was held at the Florence, Ky., law offices of license review committee chairman Burr Travis. Dutrow, who is based at Aqueduct, flew into the nearby Northern Kentucky-Cincinnati airport and planned to return to New York after the hearing.

Dutrow could appeal the decision to the full commission or file a motion in Franklin Circuit Court. The trainer said he did not know if the Kentucky decision would affect his ability to train in other states that have reciprocity agreements.

Dutrow entered two horses in Keeneland stakes that will likely be scratched: Amen Hallelujah in the Vinery Madison (gr. I) April 14 and Court Vision in the Maker's Mark Mile (gr. IT) the following day. Travis informed Dutrow it will be up to the stewards whether those horses are scratched and that he will have to work out a plan with stewards to transfer horses from his stable in Kentucky to other trainers.

Following the decision, a visibly upset Dutrow complained that the committee's decision was unfair to the owners of the horses that will be scratched. He said when he entered the horses he should have been informed that he probably would be denied a license at the hearing.

"You knew I was going to enter those horses; you should have let me know I was going to be denied a license so they could have been entered with another trainer. That's not right," Dutrow said.

Director of licensing Chris Clark responded that the stewards can allow a trainer to enter a horse pending a license being issued. But Travis said being able to enter and then not being licensed to start the horses was a different matter.

Travis said the committee could not have told Dutrow in advance of the hearing that he would not be granted a license. "Frankly, it could have gone either way," Travis said of the committee's action.
Susan Speckert, the KHRC's chief legal counsel, said it was Dutrow's responsibility to protects his clients' interests.
"You were contacted about having to appear before this committee, correct? You know that your license is under review, correct? So, if anybody has an obligation to their owners, it was you. We have tried to accommodate you. We reached out to you. We have taken every step we can to accommodate you. If you have not taken the steps you need to take to protect your owners, that is your responsibility," Speckert said.
In denying the application, the committee cited the following regulations under section 810 of the Kentucky Revised Statutes as reasons for the action:
(a) The public interest, for the purpose of maintaining proper control over horse racing meetings or pari-mutuel wagering, may be adversely affected if the license is issued;
(d) The licensee or applicant has had a license issued by the legally constituted racing or gaming commission of a state, province, or country denied, suspended, or revoked;
(e) The licensee or applicant has had a license issued by the Commonwealth revoked, suspended, or denied;
(g) The licensee or applicant has made a material misrepresentation, falsification, or omission of information in an application for a license;
(j) The licensee or applicant has perpetrated or attempted to perpetrate a fraud or misrepresentation in connection with the racing or breeding of a horse or pari-mutuel wagering;
(q) The licensee or applicant has engaged in conduct that is against the best interest of horse racing, or compromises the integrity of operations at a track, training facility, or satellite facility.

Dutrow, who was not represented by legal counsel at the hearing, said most of the drug-related offenses on his record were due to overages of therapeutic medications. In the instances of the two most significant violations, for illegal medications for which the horses tested positive, Dutrow said neither he nor his staff were aware of how the medications could have been in the horses' systems during the post-race tests.

He also said any misinformation on his license applications were not intentional but were due to the fact others completed the paperwork for him, and he just signed it.

"I don't do it deliberately trying to hide something from somebody," Dutrow said.
Dutrow, who trained Big Brown to victories in the 2008 Kentucky Derby Presented by Yum! Brands (gr. I) and Preakness Stakes (gr. I), also faces an upcoming hearing in New York over two suspensions: one for 60 days and the other for 30 days. Because those actions are in litigation they were not addressed during the Kentucky hearing as Travis reviewed the list of violations on Dutrow's record.

Travis noted that in his license application, received late April 12, Dutrow included a list of only his fines and suspensions in New York and not other states. Dutrow said the information was readily available through the New York State Racing and Wagering Board if the Kentucky regulators wanted to see it. Travis responded that there was insufficient time for that and that the KHRC staff had attempted to locate as many of the records as possible in a short period of time.

In response to a question about the circumstances of a fine and suspension in New Jersey in 2007, Dutrow acknowledged that he had a workout time recorded for Wild Desert at Monmouth Park that did not actually take place. The horse went on to win the Queen's Plate in Canada while racing under the name of the late Bobby Frankel because Dutrow was serving a suspension at the time. Dutrow said he shared in the purse of the Queen's Plate and that his stable likely billed the owner as if the horse was still in his stable.

Dutrow also said he had Wild Desert shipped to his barn at Aqueduct under a different name because a New York Racing Association official had told him the horse was not permitted on the grounds.

Travis noted that on the license application Dutrow had answered that he had been charged or convicted of a crime, but did not provide any details. Dutrow said that was because he could not remember whether the incident occurred within the time frame stipulated on the application, but the committee could get copies of his criminal record in order to get the specifics.

Noting that it was not possible for the commission staff to be able to find out such information for the approximately 15,000 license applications it receives each year, Travis pressed Dutrow for more details. Dutrow said he could not remember the date of the incident but explained it involved breaking into a slot machine in Nevada.

FREE! E-Newsletters from The Blood-Horse!...
Follow the top stories of major racing events, racing previews and results with FREE e-newsletters from bloodhorse.com. As news develops, we'll deliver updates to your inbox. Follow important events moment by moment, step by step!