Overbrook Donates Storm Cat Season to American Red Cross
Date Posted: 10/7/2001 10:53:41 PM
Last Updated: 10/10/2001 12:00:55 PM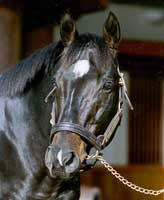 Leading sire Storm Cat.


A 2002 stallion nomination to leading sire Storm Cat, who stands for a $500,000 fee, will be sold during the Keeneland November breeding stock sale, with the proceeds to benefit the American Red Cross relief efforts. The season, which has been donated to the Red Cross, will be sold at the conclusion of the Monday, Nov. 5 session of the sale.Although the season is being offered on a "no guarantee" basis, Overbrook officials said in the event there is no live foal from the 2002 breeding, the purchaser of the season will have the opportunity to mate a mare with Storm Cat in 2003, assuming the stallion remains breeding sound.Overbrook's announcement coincided with Sunday's running of the $500,000-added Overbrook Spinster Stakes at Keeneland.Twenty yearlings sired by Storm Cat have sold at public auction this year for an average of $1.74 million, including a colt out of Halory that sold for $6.4 million at Keeneland's September Yearling Sale.



Copyright © 2015 The Blood-Horse, Inc. All Rights Reserved.