Oak Tree Race Report: Slaying the Giants
by Craig Harzmann
Date Posted: 10/7/2001 8:31:30 PM
Last Updated: 10/10/2001 2:51:40 PM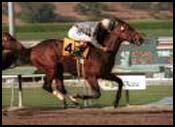 Freedom Crest posted a stunning upset victory in the Goodwood Breeders' Cup.
Photo: AP/Benoit

Published in the Oct. 13 issue of The Blood-Horse
Craig Dollase was outside his Santa Anita barn late in the afternoon of Oct. 6, giving a party of onlookers an impromptu lesson in equine anatomy. "As far as conformation goes, no horse is perfect, but this horse is pretty close to that," the young trainer noted. "Very, very correct in his legs. You like a long neck, strong shoulder. Not real, real big, but that's what I like 'cause they stay sounder that way." Standing quietly for the explanation, perhaps unaware of the gravity of his latest feat, was a four-legged cruise missile named Swept Overboard, who just an hour earlier had KO'ed Kona Gold in the $207,100 Ancient Title Breeders' Cup Handicap (gr. I) at six furlongs. "He really looked good today," Dollase said. "That last quarter, man, was just..." Awesome maybe? Devastating even? Call it what you want. But just envision Lit de Justice. Same color, same engine, only pint-sized and better behaved. It's quite a sight to behold. "He likes the turns," said Dollase, pinpointing the crux of Swept Overboard's menacing kick. "I think he's left-handed because he has an amazing turn of foot on the turn. That's one thing I've noticed about him. Even my riders mention it, too. He has such acceleration on his left lead." For the Ancient Title, Swept Overboard was reunited with jockey Eddie Delahoussaye, the master of late-running drama. Though the action was hot, Swept Overboard kept to himself early on. He started to roll leaving the backstretch, however, and though they were dead-last leaving the turn, Delahoussaye felt fire beneath him. He needed to, for up ahead, Kona Gold was on the move, head low and driving toward the leaders. When Kona Gold hit full steam, Alex Solis knew it was over. Then just as quickly, it wasn't. "I can't believe that horse blew by me," Solis later said. "Kona was flying. At the eighth pole, he was flat-out flying. There's no way. And then I looked back and I saw a shadow coming, and I said, 'What the heck?' " Kona Gold had delivered his customary finishing blow, leaving Freespool and Forest Camp for dead. But Freespool's fierce splits--a half in :43.45, five-eighths in :55.75--had set the table for Swept Overboard. When he finally appeared passing the eighth pole, his momentum was too much. Kona Gold could offer little resistance. Swept Overboard darted past the finish to win by 2 1/2 lengths, stopping the clock in a stakes-record 1:07.67 (Lexicon needed a stakes record himself to beat Kona Gold in the '99 Ancient Title). But Kona Gold may have lost this race before he ever left the gate. Assigned a career-high 127 pounds, he carried 11 pounds more than Swept Overboard and 14 more than third-place I Love Silver. And taking into account both the weight spread and Kona Gold's 11-week layoff, trainer Bruce Headley was decidedly upbeat afterwards, eager to take the next step. "He ran a winning race; he just didn't win," Headley said. "But I could see him laboring down the backside. The old champion really tried; he always tries. The weight you could see slowed him down." Conquering the king, though, is enough to bolster anyone's résumé, and Swept Overboard is clearly a star on the rise. Owned by John Paul Reddam, the son of End Sweep was already a stakes-winning sprinter when he was plucked from the 2000 dispersal sale of the late Marshall Naify. When Swept Overboard blitzed an optional claiming field right out of the box a few weeks later, Dollase began to think Breeders' Cup Sprint (gr. I). A hairline fracture, located in the colt's left front cannon bone, scotched those plans, however. It took a year, but Dollase finally has the target back in sight. He admits Swept Overboard will need a boiling pace to be effective at Belmont Park on Oct. 27, but he also knows what it takes to close the deal. He was just 27, the youngest winning trainer in Breeders' Cup history, when Reraise took the '98 Sprint (beating Kona Gold, among others) at Churchill Downs. "Swepty, are you ready for that cold weather back there?" Dollase called out as the colt ambled around the tow ring. "I think he'll thrive in it. He looks good; he's kept his weight on well. We're not overraced, I don't think. We've spotted him right." But he'll also have to face Kona Gold again, a sharper Kona Gold with the benefit of a race in his system. And next time, the weights will be a non-factor. Solis is already counting the days until the rematch. "He looks good," Solis said after checking in on the champ that evening. "He's mad. That's good." Their next clash--the Breeders' Cup Sprint--will be the one that matters most. Continued...



Copyright © 2015 The Blood-Horse, Inc. All Rights Reserved.