Gold Cup Report: New Aptitude
Updated: Thursday, October 11, 2001 2:12 PM
Posted: Saturday, October 6, 2001 7:21 PM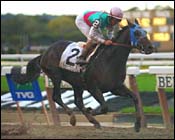 Photo: AP/NYRA/Adam Coglianese
Aptitude posted his third straight triumph in taking the Jockey Club Gold Cup.
For the past several months, an insatiable monster has been running amok, devouring stakes and causing mayhem across the land. Finally, horsemen could take no more, and their cry resounded throughout the racing world: Frankelstein must be destroyed.But was there anyone out there who could stop this rampaging California colossus known as Bobby Frankel? Nick Zito, the great defender of New York, loaded both barrels of his shotgun in order to stop the beast in the Oct. 6 Jockey Club Gold Cup. But when the dust had cleared, there was Frankel, still feasting on grade I stakes. You by 6 1/4 lengths in the Frizette Stakes -- gulp! Aptitude by 10 lenghts in the Gold Cup -- crunch! Frankel also was pleased with Flute's second-place finish in the Beldame Stakes, coming off a seven-week layoff and racing on the deepest part of the track.In the past 10 weeks, Frankel has won an amazing nine grade I stakes and finished second in three others. And in one of those weeks, there was no racing in New York and California. He's also captured five grade II stakes during that time. "Am I still sleeping? Did I wake up from last night?" Frankel asked following Aptitude's devastating victory in the Gold Cup. Even Frankel admits it's starting to get embarrassing. "It really is," he said. "Mentally, I'm in a good zone and the horses are staying sound." After the Gold Cup, a lone, shadowy figure could be seen swaggering through the tunnel leading to the track. Even in the dim light, one could see the wide grin on the face of Frankel, who watches the races at Belmont in the racing secretary's office behind the paddock. "I told you he's the best," he said. "He's my boy. If he wins the Breeders' Cup (Classic) he should be Horse of the Year, without a doubt." This was a typical Bobby Frankel comment. Although he is perceived by many as cocky and audacious, there is a softer side to Frankel that most people don't see. His love affair with Flute is becoming widely known, and the affection he lavishes on her is quite a contrast from the California cool image he usually displays. But there is another Beauty who has captured the heart of the Beast, and that is Juddmonte Farms' Aptitude. As darkness fell on Belmont, Frankel returned to his barn following a champagne celebration in the office of New York Racing Association chairman Barry Schwartz. He arrived just as Aptitude was walking by. Frankel's face lit up, and he went over and began stroking the colt on the forehead and neck, as he would his Australian Shepherds. "How you doin', big boy? You showed 'em," he said. "You showed 'em who's champ." This victory was extra sweet for Frankel, because of all the knocks Aptitude has taken over the past year and a half. Instead of receiving credit for finishing a strong second in the 2000 Kentucky Derby (gr. I), and running second in the Belmont Stakes (gr. I) despite nagging ankle problems, the son of A.P. Indy was branded as a horse who couldn't win the big one. Frankel had heard enough of that criticism directed at himself for his failure to win a Breeders' Cup race in 36 attempts. Now the horse and trainer who can't win the big one are heading to the Breeders' Cup on top of the world. "Everybody definitely had their doubts about this horse," Frankel told a gathering of reporters after the race. "I don't get mad, I swear, but it really motivates me to show you what I got." After leaving the interview room, Frankel couldn't help but smile. "All those guys know the knocks he's been taking, because they're the ones who were knocking him," he said. Frankel had been pumped for this race since Aptitude's 4 1/4-length victory in the Saratoga Breeders' Cup Handicap (gr. II) on Aug. 19. In that race, he gave away seven pounds and easily defeated Gander, who had finished a neck behind Albert the Great in the Whitney Handicap (gr. I), a race won by Frankel's Lido Palace. Gander then came back to win the Meadowlands Cup (gr. II) on Sept. 28 in near-track-record time. Using Gander as a gauge, Frankel was convinced Aptitude was ready to knock off Albert the Great, who had won six of his eight starts at Belmont. Zito also entered A P Valentine in an effort to give the colt one last shot at stardom. Another sound defeat and last year's Champagne (gr. I) winner was off to stud. Also entered were Jim Dandy (gr. I) winner Scorpion, the European group winner Generous Rosi, who had found a home on the dirt at age six, and Country Be Gold. Completing the seven-horse field was the German-bred Sumitas, whom Frankel had put in to "entertain" Albert the Great on the lead. "That's his style," Frankel said earlier in the day. "But I can't tell the rider to go out there and kill Albert the Great. It's not the same owner and I can't sacrifice someone else's horse. But if the rider decides to do it, I'm not gonna tell him not to." The morning of the race, as light showers began falling, Frankel stood in the Trackside Cafe near the finish line and expressed his concern that a heavy downpour could turn the track sloppy. "I just don't want a sloppy racetrack," he said. "That's when you start playing with luck, and I don't want someone getting lucky on me." About 30 minutes later, the rains did become heavy for a short while, but sunshine, strong winds, and a drastic drop in temperatures all helped the track dry quickly, and it was labeled 'fast' by the first race. Frankel was confident, even for Frankel. "This is a different horse since we put the blinkers on him," he said. "If you watch the Saratoga race, he just exploded in the last sixteenth. If they had gone another sixteenth he would have won by 15. I really don't think he can lose today. If he loses I'd be very disappointed." The crowd made Albert the Great the 6-5 favorite, with Aptitude 7-5. The only other horse lower that 20-1 was A P Valentine at 9-2. At the start, Frankel felt good when he saw Aptitude pulling Jerry Bailey, who had to take a hold of him. Normally, this is a colt you have to ride away from the gate, but it was obvious Aptitude had running on his mind. As they made their way down the backstretch, Frankel was a bit concerned when he saw A P Valentine in front of Aptitude, who had settled comfortably in sixth. Meanwhile, things weren't going as expected on the front end, as Albert the Great, with new rider Gary Stevens, was fourth, behind Generous Rosi, Sumitas, and Scorpion. Frankel earlier had said he wanted to see a half in :46 and change. He got his wish, as Generous Rosi cut out a half in :46.41, with Aptitude now nudging ahead of A P Valentine, about four lengths off the lead. Around the far turn, Stevens moved Albert the Great up to challenge for the lead as Sumitas and Scorpion retreated. But it quickly became apparent that Albert the Great was going to have his hands full with Generous Rosi. As Stevens tried in vain to get past the leader, Bailey cruised up behind him, ready for the kill. Suddenly, in the blink of an eye, the race was over. Aptitude just blew by Generous Rosi and Albert the Great and opened up a four-length lead in a matter of a few strides. Bailey hit him once after turning for home, then threw a little cross on him. Passing the three-sixteenths pole, Bailey waved his stick at Aptitude four times, then reached back and went to hit him again. With his whip cocked and ready to come down, he took a peek behind him, and when he saw the others fading in the distance, he changed his mind and quickly pulled the whip back, putting it away for good.
Continued...
(Chart,
Equibase
)
FREE! E-Newsletters from The Blood-Horse!...
Follow the top stories of major racing events, racing previews and results with FREE e-newsletters from bloodhorse.com. As news develops, we'll deliver updates to your inbox. Follow important events moment by moment, step by step!