Looking Back: Reflecting on the F-T Fla. Sale
by Deirdre B. Biles
Date Posted: 3/7/2011 9:35:39 AM
Last Updated: 3/8/2011 11:08:24 AM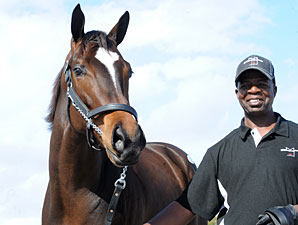 Fasig-Tipton March Sale
Photo: Joe DiOrio
The Fasig-Tipton Florida select sale of 2-year-olds in training produced mixed results March 3 at Palm Beach Meadows Training Center. The median price was stable, but the gross and average prices were down from 2010. The buy-back rate rose, surpassing 40%.
Read what the auction's participants had to say about the market and some of the horses that were sold:
Terry Finley, West Point Thoroughbreds: "The best buyers and the best sellers are here from all over the world, so this is where you want to be if you want to really mix it up with the best on both sides (of the Atlantic). This is great. I think there's a lot of energy here and everybody seems happy. This is a good start (to the select juvenile selling season)."

Niall Brennan, Niall Brennan Stables: "It seems like the same old, same old -- very hit and miss and kind of selective. We had a lot of action at the barns, but when it really comes down to it, they (the buyers) are on a few horses or they're not buying at all.
"And then you factor in the vets (veterinarians). Even though there is a lot of action, the vets are killing a lot of that. They're really hard (on horses they examine). That hurts the momentum.
"People want to buy horses, but they're selective. If you tick all the boxes, and you've genuinely got a nice horse, they're selling good. The ones that are selling are selling good. But there are a lot of scratches and a lot of RNAs. That's the reality of today's market place for everybody. In these select sales right now, it's all or nothing.
"We've had some good high spots today and we've been happy with the horses that have sold, But we've had a couple that didn't sell that we thought would."
Carl Bowling, Secure Investments: "The market's exactly the same as it's been and it's going to be like this for a while. The way I describe it is the man who's got the money, if there's something here he likes, he's going to leave with it. The other horses are going to be sold only if somebody is getting an absolute bargain."
Steve Young, bloodstock agent: "I think it (the sale) went well. The first year you try to do anything (new), it will be better (the following year) for the experience of it. But I think they (Fasig-Tipton officials) did try. The place is nice. The track is good. And everybody seemed to be happy enough with it. There were some very good horses here. I don't know that there were a lot of good ones, but there were some good ones."
Dean De Renzo, Hartley/De Renzo Thoroughbreds: "The sale was probably a reflection of today's economy. We had some wonderful horses here that worked well that brought a lot of money. I'm really not tremendously disappointed with the sale, but I think I'm maybe disappointed in the economy. It's not quite back (to normal) yet, but it's on its way.
"When they (the buyers) are landing on the right horses, they're giving a lot of money for them. And when they don't need the horses, they are passing them by at this time, I guess it's still feast or famine, but I do feel positive about it (the market) all and all. I think it's going to get better as the year goes on.
"This (sale) is breaking the ice (by being the first select juvenile auction of the year). We do have a lot of new things going on here -- a new facility, a new racetrack, and a new area (of Florida) to think about. There have been a lot of changes and overall it went well. We'll be back here again next year for sure and it will be better.
"I was kind of hoping it (the market) would change a little bit more, but it was pretty similar to last year."
Reiley McDonald, Eaton Sales, on the $575,000 Hard Spun – Princess Patricia colt he purchased for Elizabeth Moran's Brushwood Stable: "He's a big, strong colt. Mrs. Moran bred Hard Spun so we're a little partial to him. He (the colt) had a terrific work. He's sound, and he just had all the right parts."
John Ferguson, Sheikh Mohammed's bloodstock manager, on the $500,000 Medaglia d'Oro – Bubbling Heights colt he purchased: "Medaglia d'Oro is proven on both the dirt and the grass (as a sire), he (the colt) is out of a Darshaan mare, and he worked very well on the turf, so I think it's quite likely that he'll go to Europe."
Copyright © 2015 The Blood-Horse, Inc. All Rights Reserved.