Kentucky Derby Graded Stakes Earnings List
Updated: Saturday, March 5, 2011 9:54 AM
Posted: Tuesday, March 1, 2011 11:00 AM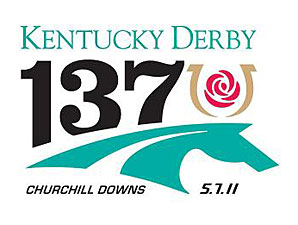 The Kentucky Derby 137 graded stakes earnings will likely determine the participants in the 137th running of the Kentucky Derby Presented by Yum! Brands (gr. I) at Churchill Downs May 7. The below list is updated through Sunday, Feb. 27.
The Kentucky Derby field has been limited to 20 starters since 1975, and graded stakes earnings accumulated in graded races on the road to the Kentucky Derby have helped determined the field for the 1 1/4-mile classic since 1986. The Kentucky Derby 137 Graded Stakes Earnings List includes all 3-year-olds–colts, geldings, and fillies--who were made eligible for this year's Triple Crown at $600 per horse when the early nomination period closed Jan. 22.
There also will be a late period for nominations at $6,000 each that will close Saturday, March 26. Twenty horses have entered the Derby every year since 2004, and 10 of the last 12 years. The 20th and final spot in the starting gate – "the bubble" horse–has varied year to year. Last year, it took a record $218,750 for eventual fourth-place finisher Make Music for Me to make the field. In 2009, it took only $55,500 for Nowhere to Hide to complete the 20-horse lineup.
Over the last five years, the final horse to make the field has earned an average of $130,450 in graded stakes races. In the case of a tie for the final entry position or the determination of all remaining starters, preference is given to horses that accumulated the highest earnings in non-restricted stakes races. If a tie still remains, the final spots in the starting gate will be determined by lot or a "shake." There is no "also-eligible" list.
Rank. Rank last week. Horse Graded Stakes Earnings Owner Trainer
1. 1. Uncle Mo $1,260,000 Repole Stable (Mike Repole) Todd Pletcher
2. 2. Gourmet Dinner $780,000 William Terrill Steve Standridge
3. 3. J P's Gusto (r) $540,000 Gem Inc. (Waken) Joe Petalino
4. t-7. Soldat$510,000 Harvey Clarke, W. Craig Robertson III, Paul Braverman & Namcook Stable Kiaran McLaughlin
5. 4. Comma to the Top (g) $456,000 Gary Barber, Roger Birnbaum & Kevin Tsujihara Peter Miller
6. 5. Turbulent Descent (f) $295,550 Blinkers On Racing, Dave Aurelio, Robert Butler, Joleen Coons, Lapso, et al Mike Puype
7. 6. Rogue Romance $288,000 Catesby W. Clay Ken McPeek
8. t-7. Mucho Macho Man $270,000 Reeves Thoroughbred Racing & Dream Team One Racing Stable Kathy Ritvo
9. 11. To Honor and Serve $250,000 Live Oak Plantation (Charlotte Weber) Bill Mott
10. 9. Santiva $240,254 Tom R. Walters Eddie Kenneally
11. 10. Dialed In $240,000 Robert V. La Penta Nick Zito
12. 12. Decisive Moment $206,000 Just For Fun Stable Juan Arias
13. 13. Jaycito $200,000 Zayat Stables, LLC (Ahmed Zayat) Bob Baffert
14. 14. Anthony's Cross $162,000 Arianne De Kwiatkowski Eoin Harty
15. 15. Archarcharch $150,000 Robert Yagos Jinks Fires
16. 16. Riveting Reason $147,500 M.K. Cho Stables, LLC Myung Kwon Cho
17. 17. Blue Laser $143,502 WinStar Farm LLC (Kenny Troutt) Mark Casse
18. 18. Willcox Inn $139,000 All In Stable Mike Stidham
19. 19. Silver Medallion $124,334 Michael J. Ryan Steve Asmussen
20. 20. Sweet Ducky $120,000 George & Lori Hall Kelly Breen
21. 21. Brethren $120,000 WinStar Farm LLC (Kenny Troutt) Todd Pletcher
22. 22. Stay Thirsty $110,000 Repole Stable (Mike Repole) Todd Pletcher
23. 23. Astrology $105,893 Stonestreet Stables (Jess Jackson) & George Bolton Steve Asmussen
24. 24. Lou Brissie $99,043 Dogwood Stable (Cot Campbell et al) Neil Howard
t-25. New Flashpoint $90,000 Peachtree Stable Rick Dutrow Jr.
t-25. 25. The Factor $90,000 Fog City Stable & George Bolton Bob Baffert
27. 26. Major Gain $86,370 Gary L. & Mary E. West Wayne Catalano
28. 27. Premier Pegasus $78,000 M.K. Cho Stables, LLC Myung Kwon Cho
t-29. t-28. Sway Away $60,000 Batman Stable, Philip Lebherz, Cindy Olsen, Janet Sharp, Glen Wallace et al Jeff Bonde
t-29. t-28. Wilkinson $60,000 Gaillardia Racing LLC Neil Howard
31. 30. Surrey Star-IRE $44,257 Class Racing Stable Jim Cassidy
32. 31. Master of Hounds $41,884 Mrs. John Magnier Aidan O'Brien
33. 32. Classic Legacy (g) $41,756 Lanni Family Trust, Bernard C. Schiappa & K. Jones Bob Baffert
34. 33. Jakesam $40,000 Bourque Goldstein Thoroughbreds LLC Jerry Hollendorfer
35. 34. Abjer-FR $36,235 Mohammed Al Shafar Clive Brittain
36. 35. Rustler Hustler $30,000 Paul P. Pompa Jr. Rick Dutrow Jr.
t-37. t-36. I'm Steppin' It Up $30,000 Roman Hill Farm LLC Anthony Pecoraro
t-37. t-36. Quail Hill $30,000 Tarabilla Farms Inc. David Hofmans
t-37. New Travelin Man $30,000 E. Paul Robsham Stables LLC Todd Pletcher
40. 38. Elite Alex $25,000 Elite Alex LLC Tim Richey
41. 39. Positive Response (g) $24,000 Saul Gevertz, Bill Morey, Roger Newman & Ray Pagano Bill Morey
42. 40. Ribo Bobo (g) $23,726 Rapputi Stables LLC, Dimitar Pencheff & Carlota Stable Manny Azpurua
43. 41. Pants On Fire $23,000 George & Lori Hall Kelly Breen
44. 42. Indian Winter $22,500 Peter Abruzzo, John Carver, Jerry Hollendorfer & George Todaro Jerry Hollendorfer
45. 43. Powhatan County $20,000 Richlyn Farms George Weaver
46. 44. Industry Leader $20,000 Dimitri Racing Stable, Inc. & Twilight Racing, LLC Kristin Mulhall
47. 45. Thirtyfirststreet $15,000 Mark Gorman, Neil Haymes & Sterling Stable Doug O'Neill
48. 46. Major Art-GB $13,435 Class Racing Stable Eric Kruljac
49. 55. Leave of Absence $12,500 Klaravich Stables, Inc. & W.H. Lawrence Rick Violette Jr.
50. 47. Awesome Patriot $12,000 Lanni Family Trust & Bernard C. Schiappa Bob Baffert
t-51. 48. Black N Beauty $12,000 Zayat Stables, LLC Dale Romans
t-51. 49. Machen $12,000 Courtlandt Farms Neil Howard
t-51. New Shackleford $12,000 Michael Lauffer & W.D. Cubbedge Dale Romans
54. 50. Caleb's Posse $11,504 McNeill Stables (Don McNeill) Donnie Von Hemel
55. 51. Ronin Dax $10,830 Bruno DeJulio, Galen Ho'o, Molly Jo Rosen & Robert Troeger Robert Troeger
56. 52. Bandbox $10,000 Hillwood Stable LLC Rodney Jenkins
57. 53. Beamer $10,000 Jim Tafel LLC Carl Nafzger
58. 54. Monzon (g) $9,000 Sagamore Farm Ignacio Correas IV
59. New Racing Aptitude $8,000 Donald R. Dizney Howie Tesher
t-60. New Razmataz $7,500 Let's Go Stable Todd Pletcher
t-60. 56. Yankee Passion $7,500 Brereton C. Jones Larry Jones
62. 57. Uncle Sam (r) $6,000 Kaleem Shah Bob Baffert
FREE! E-Newsletters from The Blood-Horse!...
Follow the top stories of major racing events, racing previews and results with FREE e-newsletters from bloodhorse.com. As news develops, we'll deliver updates to your inbox. Follow important events moment by moment, step by step!