Arlington Purses to be Based on Field Sizes
Date Posted: 2/21/2011 2:36:38 PM
Last Updated: 2/22/2011 1:19:28 PM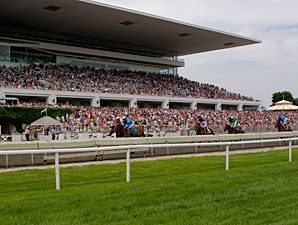 Arlington Park
Photo: Courtesy of Arlington Park
By Bob Kieckhefer
Arlington Park and Illinois horsemen have agreed to tie individual race purses to field size this year in an effort to ensure more bettable races.

The agreement will impact overnight races, basing the purse structure on fields reaching the paddock with at least seven betting interests. A paddock with six or fewer betting interests will run for 85% of the listed purse. The remainder will be "banked" in the purse account.

Arlington chairman Richard L. Duchossois hinted at the arrangement in an earlier interview with The Blood-Horse, saying, "We have an entirely different way to have incentives that we can fill up our races to get to a minimum of eight horses per race. There are penalties if we go below and rewards if we go above. We don't know how well that's going to work. But we're going to try it."

The targeted eight-horse field shrank to seven in the final agreement.
Arlington general manager Tony Petrillo said bigger fields benefit all parties. "The reduced wagering on short fields results in a significant loss of handle and purse money generated for the horsemen," he said. "The banking program will allow us to maintain a sustainable purse structure at the most competitive time of the year."

Mike Campbell, president of the Illinois Thoroughbred Horsemen's Association, said several horsemen helped work out the program.

"It was a difficult decision but Arlington management and horsemen together are finding ways to better the Illinois horse racing industry and maintain the highest possible level of Thoroughbred competition even during these difficult economic times," Campbell said.

Arlington cited a maiden special weight race as an example. In that event, the purse listed in the condition book would be $28,000. Should a field of six or fewer betting interests reach the paddock, the purse for the race would be reduced to $23,800 with the balance "banked."

The track and horsemen also agreed to list purse values in the condition book exclusive of any bonuses, such as Illinois Owner Awards. Thus, the same race could be listed in the book as carrying a purse of $28,000, plus $10,080 in IOA, rather than a total purse of $38,080.

In the earlier interview, Duchossois praised a new spirit of cooperation among horsemen, owners, the tracks and other interests in Illinois racing.

"When you get right down to it," Duchossois said, "what's good for the race track is good for the horsemen. And what's good for the horsemen is good for the race track. And they understand that. Before, it was always just strictly one-sided. And those days, I think, are in back of us, which gives me so much encouragement."

Copyright © 2015 The Blood-Horse, Inc. All Rights Reserved.