Steve Haskin's Breeders' Cup Classic Report
by Steve Haskin
Date Posted: 10/1/2001 4:12:09 PM
Last Updated: 10/6/2001 5:48:46 PM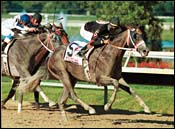 Macho Uno, shown winning the Pennsylvania Derby, remains on track for the Classic.


One more week and the Breeders' Cup Classic picture should come into focus. The Meadowlands Cup produced a definite starter in Include, who ran a huge race to finish third, and a possible starter in Gander, who led all the way to score a gutsy and well-deserved victory. Macho Uno, who finished third at 1-5 in the Ohio Derby, came out of the race in good shape, and is still on course for the Classic, according to Adena Springs farm manager Danny Vella.Now all we have to do is sort out this weekend's two big races, the Jockey Club Gold Cup and Goodwood Handicap, add that to the European mix, and we've got a field for the 18th Breeders' Cup Classic. The status of Guided Tour, winner of the Kentucky Cup Classic, is still up in the air, and we likely won't know anything until we get closer to the race.The Jockey Club Gold Cup basically will be a Triple A event --- Albert the Great, A P Valentine, and Aptitude, while the Goodwood will feature defending Horse of the Year and Classic winner Tiznow, the always dangerous Skimming, and the hard-hitting Dixie Dot Com.Before we get to these races in more detail, we can't let the Meadowlands Cup go by without mentioning the tremendous stretch battle between Gander, Broken Vow, and Include. Gander, the popular New York-bred, has been knocking heads with the big boys for a long time and finally got his just reward. Allowed to set a dawdling pace for a half-mile, Gander really poured it on with a final five-eighths in a sensational :58 2/5, battling back in the stretch to win by a neck in 1:47 flat. Trainer John Terranova has the call whether to go for the big one or run in the Empire Classic for state-breds."I want to watch the races this weekend," he said. "But we're definitely considering it. To even get a piece of $4 million would be great. So, we'll sit tight and see what happens. We know he likes Belmont, and the way he dug in against those horses the whole length of the stretch was real sweet. I'm just getting my voice back now."As impressive as Gander was, you had to love Include's performance. Making his first start in three months after suffering an injury in the Suburban Handicap, the son of Broad Brush demonstrated a brilliant turn of foot leaving the three-eighths pole, right into the teeth of a :23 3/5 quarter, which followed a :23 1/5 quarter. By making up three lengths quickly, then battling on even terms in the stretch while coming up a tad short, Include ran his final five eighths in an unreal :57 4/5 and his final three-eighths in :34 3/5."He came back quite tired, and laid down for a full day," trainer Buddy Delp said. "But he's bounced back, and if everything looks okay, we'll go for the big one. He checked out perfectly, but we'll do a precautionary ultrasound where the problem was just to be on the safe side. As of now, we're planning on shipping to Belmont and work four days out from the race, then gallop him the rest of the way. I'll wait until after the Gold Cup to see if we hear from Jerry Bailey (who rides Aptitude). If we don't get Bailey, we've already had interest from John Velazquez and Edgar Prado."As for Macho Uno, last year's 2-year-old champ ran hard and was narrowly beaten. As Vella said, no one really knows how much the colt's bout with colic last week took out of him, and he did miss a work. But Vella is convinced the colt didn't handle the track, and added to to colic, it might have been too much to overcome."You could see the way he was climbing and switching leads that he wasn't handling the track," Vella said. "Between that and everything else, he just couldn't get there. If everything is perfect from now on, the Breeders' Cup is still in the plans. He'll have four weeks and he'll be at his home track. I still firmly believe this is a great horse."Looking ahead to this weekend's big stakes, Albert the Great and A P Valentine both breezed five furlongs in :59 over a good track Monday, while Aptitude breezed the same distance in 1:01 2/5 on Sunday. Joining Aptitude in the Gold Cup to assure an honest pace is Sumitas, who scratched out of the Meadowlands Cup. Also pointing for the race is Country Be Gold, who breezed five furlongs in :59 2/5 Monday on the training track. Joe Orseno may run Tarquinius to try to pick up a piece of the purse.Tiznow breezed five furlongs in :59 2/5 Monday for the Goodwood, galloping out a strong six furlongs in 1:11 4/5. This should be some battle on the front end with Skimming, a top-class horse who wants to be on the lead. No doubt, Chris McCarron on Tiznow will have some decisions to make during the course of the race. If these two take enough out of each other, there's always the bulldog Dixie Dot Com to contend with in the stretch.Finally, the plans for Europe's dynamic duo of Galileo and Fantastic Light to contest the Classic are still on go. Galileo will be one of eight or nine Aidan O'Brien horses heading to Southwell Race Course Wednesday, where he'll have a work over the all-weather track. Also scheduled to work is Black Minnaloushe, who could go for the Classic or the Mile.



Copyright © 2015 The Blood-Horse, Inc. All Rights Reserved.