Santa Anita Notes: Cohen, Cedillo, Heap
by Blood-Horse Staff
Date Posted: 2/11/2011 5:44:45 PM
Last Updated: 2/12/2011 1:25:30 PM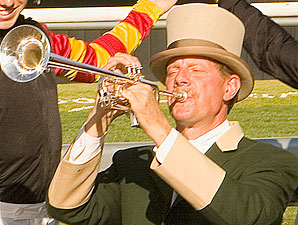 Jay Cohen
Photo: Benoitphoto.com
Popular Santa Anita Park horn blower Jay Cohen expects to be gone from the Southern California track for about two weeks for surgery on a painful neck ailment.

"Sunday (Feb. 13) is my last day," the 54-year-old Cohen said Feb. 11. "I have to have a piece of bone taken out of my neck. About a month ago, the pain got to be too much. I couldn't take it any more, and I just thought, 'I'm not going to make it till summertime.'
"The doctor is giving me about a two-week recuperation. I was trying to get the surgery scheduled on Monday (Feb. 14) but they can't do it until Thursday (Feb. 17), so that cost me three days right there. This is my third neck surgery. It's just bad luck. It wasn't an accident. It's just genetic. There's a lot of arthritis in the family and I just don't have a good neck, that's all."
Cohen's replacement will be Kevin Brown. "He's an excellent player," said Cohen, who hopes to be back on the job by Santa Anita Handicap (gr. I) Day, March 5.
Agent Tony Matos said Victor Espinoza would honor his four riding commitments Feb. 11 after being involved in a first-race spill Feb. 10. Apprentice jockey Abel Cedillo was at home Feb. 11 after suffering a minor fracture in his back in the incident, according to his agent, Roger Olguin, who said Cedillo could be out "one or two weeks."
Outrider Blake Heap, 54, was recovering at his Monrovia home from serious injuries suffered in a training mishap at Santa Anita Jan. 30 and could make his first trackside visit since the accident Feb. 12.
"He's going to the doctor today (Feb. 11) to be checked out and if his leg is OK, maybe they'll let him get out of the house for the first time since the accident and get to the barn tomorrow," said friend and associate Rick Bassett, an owner and former pari-mutuel clerk. "He's got a long way to go, but he's definitely making progress. He's got cabin fever and like a caged animal, because he's been in his house ever since he got hurt. He won a race Saturday (Feb. 5, with 7-1 shot Circa'sgoldengear) and that was uplifting. It helped him a lot. He's hanging in there. He's tough. He's coming back. I don't know about outriding for a while, but he'll be back training horses."

Copyright © 2015 The Blood-Horse, Inc. All Rights Reserved.