Kentucky Panel Votes to Increase Mount Fees
by Tom LaMarra
Date Posted: 2/10/2011 12:38:38 PM
Last Updated: 2/11/2011 9:24:18 AM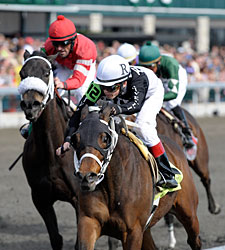 Photo: Anne M. Eberhardt
Jockey mount fees will increase in Kentucky under a one-year agreement approved by the Kentucky Horse Racing Commission, but the decision wasn't unanimous.
Mount fees will now range from $50-$110 as opposed $45-$105 under the old fee schedule. The mount fee for finishing fourth will range from $55 up to $90 for races with purses less than $100,000, and for races of $100,000 or more, the fee will be 5% of the owner's share of the purse.
The Jockeys' Guild, Kentucky Horsemen's Benevolent and Protective Association, and Kentucky Thoroughbred Association signed off on the deal.
During a Feb 9 meeting, KHRC member Tom Ludt said he was "sympathetic" toward jockeys but noted his farm staff at Vinery hasn't gotten a raise in two or three years. He also said horse owners are hurting.
"You've got farms leaving the state," Ludt said. "You're going to tax owners who are losing their butts right now (racing horses). We keep taxing owners to the point we can't make any money."
Ludt voted against the increase, as did commissioners Alan Leavitt and Dr. Foster Northrop.
"The increase is quite nominal," said KHRC member Burr Travis, also a horse owner. "It was a very difficult decision, but I looked at all parts of it. It's a compromise."
The new schedule takes effect with the next live racing program at Turfway Park Feb. 11.
"Industry concerns in Kentucky led us to a compromise short of what we had hoped," said Jeff Johnston, regional manager of the Guild, "but the new scale offers a slight increase and fulfills some of the other requests by the jockeys."
Guild national manager Terry Meyocks said Kentucky jockeys and the Guild "empathize with the owners, breeders, and trainers concerning the state of the industry in Kentucky. We are committed to working to help create a greater awareness of the issues facing the racing industry in the state."
Copyright © 2015 The Blood-Horse, Inc. All Rights Reserved.