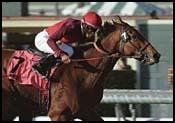 Published in the Oct. 6 issue of The Blood-Horse
For Janet, the introduction was downright rude. The atmosphere was brand new, the feeling, uncomfortable. By the time the young filly made it to the start, she was just a wreck. When she presently finished an erratic last, the sight was almost too bad to be true. "The first time she ran here, she was very, very nervous, unprepared to make the transition to American racing," explained her trainer, Darrell Vienna. "I saddled her and it was like saddling this desk, she was so hard. That's what I expected just seeing how she behaved in the paddock." At the time, however, Vienna anticipated nothing more from Janet, a British debutante who came to him labeled a notorious troublemaker, one whose crankiness toward the starting gate actually left her banned from racing for a time. What a difference a year--and a lot of attention--makes. Proving her shocker in the Ramona Handicap (gr. IT) two months ago was no joke, Janet slammed the door on Tranquility Lake once again, this time in the $500,000 Yellow Ribbon Stakes (gr. IT) on Sept. 29. It would be unfair to call Janet nervous or even irritable. When put to the question, Vienna chooses his words carefully. Over time, however, it's been the humans who have learned to adapt to the filly, not vice versa. "She has some temperament," Vienna explained. "She's feisty. It's not an uncommon thing for high-quality fillies and mares to have character. We kind of let her have her own way. If she wants to look around or jump and play, she gets to do that. Some horses you might restrain and control, and we just don't do that with her. First of all, I don't think we could. It would just make her worse." Instead, Vienna and his able crew yield to her caprices, treating her with patience and killing her with kindness. The dividends have been obvious, and never more so than in July, when the unlikely heroine stunned Tranquility Lake by a half-length in the Ramona. Nevertheless, her detractors still abounded. They said her Ramona was a fluke, that a seven-pound weight break made the difference that day. This time, however, the weights were dead even. And this time, Janet did it with authority. Vienna was admittedly sweating, though, as Janet, a filly with a penchant for finding her way into traffic, trailed the entire bunch for the first six furlongs. Certainly, it would spell doom at crunch time. But the teletimer told the real story. Minor Details and Nepenthe had Tranquility Lake busy from the gun, hounding her through a :45.98 half. She eventually blazed six furlongs in 1:09.43, over seven seconds faster than she reached the same point in last year's Yellow Ribbon. Jockey David Flores, meanwhile, had Janet poised to strike. Leaving the backstretch, Janet sparked a run that circled all but one, and when she finally engaged Tranquility Lake after a mile in 1:33.60, the Rahy mare couldn't resist. To her credit, Tranquility Lake didn't let Janet blow by. Despite the distressing splits, she somehow managed to fight on. But Janet's move was decisive, and she kept Tranquility Lake at arm's length through the stretch, finishing the 1 1/4 miles in 1:58.64. The first horse since champion Brown Bess to take the Ramona and Yellow Ribbon in the same year, Janet has truly turned the corner. And since that forgettable debut a summer ago, the daughter of Emperor Jones has won stakes now at eight, nine, 10, and 11 furlongs, bringing to mind another of Vienna's turf wonders, Mountain Bear, a mare who not only sprinted with aplomb but nearly won the 1 3/4-mile San Juan Capistrano Handicap (gr. IT) in 1986. "This filly is a lot like her," Vienna said. "Distance isn't a problem. It's nice to have that kind of versatility because it opens the horizon of racing. A large number of options are available because of that." The most prestigious of those choices, obviously, is the Breeders' Cup Filly & Mare Turf (gr. IT), though owners Jed and Bobbie Cohen face a $200,000 supplementary fee just to watch the filly enter the gate. Regardless of where she turns up next, it will be at her convenience. "What she wants to do, we just let her do because she's pretty headstrong," Vienna conceded. "We just try to stay out of her way. As long as she runs well, we'll keep doing it."
(Chart, Equibase)Continued...