Unbridled Has Rocky Weekend in Recovery
by Dan Liebman
Date Posted: 9/28/2001 3:54:00 PM
Last Updated: 10/1/2001 5:09:07 PM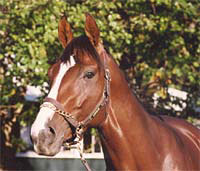 Claiborne Farm stallion Unbridled
Photo: Anne M. Eberhardt

Claiborne Farm manager Gus Koch said Unbridled, who underwent two surgeries within a week, had a "rocky" weekend but is a good patient who is battling hard to recover from his operations and subsequent complications."It's a bumpy road," Koch said Monday afternoon. "He had a rough Saturday (Sept. 29), a good Sunday (Sept. 30), but a rough Monday (Oct. 1). We're still dealing with peritonitis, trying to clean that up. This morning he was having some trouble with pain. He was uncomfortable. They refluxed some fluid off of his stomach."Koch said the stallion is walked and grazed and is a very alert, but "until he gets to the point he can travel and come home," he will remain at the Hagyard-Davidson-McGee veterinary clinic.Unbridled had a major setback in his recovery from surgery last Wednesday and was operated on again last Thursday. He had a tumor-like mass removed at Hagyard-Davidson-McGee veterinary clinic on Sept. 21. Over three feet of his colon was removed and his bowel was resected. A pathology report showed the tumor was not cancerous.On Sept. 26, Unbridled began running intermittent fever and fluid was draining into his abdomen. The following day, the fever subsided, but the fluid continued to drain."The decision was made to open him up again and that was done at 5:30 Thursday (Sept. 27) night," Koch said. In an 80-minute procedure, Dr. Bob Hunt found what he described to Koch as " 'a pencil eraser-sized hole where the site of the original surgery was...where it was resected.' "Hunt performed the first surgery along with Dr. Paul Thorpe."It's pretty touch-and-go," Koch said. "We've got three main things to watch for: one, this has to hold this time; two, there is the problem of laminitis because of the toxins in his system; and three, to watch for adhesions on the colon."Unbridled was taken to the same clinic on Sept. 3, 2000 after experiencing signs of colic. The veterinarians found a thickening of the large colon wall and there was significant blockage of bile from the bile duct. He returned to Claiborne and had a normal breeding season.He experienced some colic-like symptoms this summer and then was examined at Claiborne by Drs. Kim Sprayberry and Doug Byars.The 1990 Kentucky Derby (gr. I) and Breeders' Cup Classic (gr. I) winner is the sire of 23 stakes winners. He began his stud career at Gainesway Farm and moved to the Hancock family's Claiborne Farm near Paris, Ky., for the 1997 breeding season. He was syndicated by Claiborne president Seth Hancock into 40 shares worth $475,000 each, a value of $19 million. His stud fee this year was $200,000.



Copyright © 2015 The Blood-Horse, Inc. All Rights Reserved.