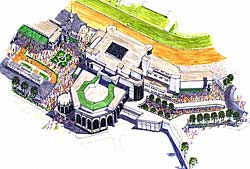 * a year-round simulcast facility with seating for 1,700,
* a new restaurant,
* premium box seats on the third floor,
* a "Gold Club" for big players.
* a sports bar,
* extensive new kitchen facilities,
* a new press box,
* and lights around the dirt and turf courses."It is vital that we invest in Churchill Downs, home of the Kentucky Derby, and one of the nation's landmark sports facilities," said Carl F. Pollard, chairman of Churchill Downs. "The Master Plan has been carefully developed to ensure that the structural, architectural, and aesthetic integrity of the racetrack--including its signature Twin Spires--is preserved, while Churchill Downs is updated to meet the needs of our patrons and horsemen. It is imperative that we develop state-of-the art facilities and first-class amenities comparable to other contemporary sporting and entertainment attractions in our area to ensure that the Kentucky Derby (gr. I), and its sister race, the Kentucky Oaks (gr. I), continue to flourish as major sporting events and significant drivers for the regional economy."Churchill Downs president and chief executive officer Tom Meeker assured investors that Phase I, though "bold and innovative" would also be fiscally responsible, a sound investment for the company, and a testament to Churchill Downs' commitment to Kentucky racing and the Thoroughbred industry."The two-part renovation plan will allow for the restoration and modernization of key areas and the creation of premium hospitality suites, while giving the company time to further evaluate plans for extensive clubhouse renovations and revise them if needed," Meeker said. "The successful completion of Phase II of the plan also will require an investment by state and local government."Phase I will slightly reduce earnings per share during construction, but is expected to add value once it is completed, according to Meeker.