Hooh Why Heads Sovereign Finalists
Date Posted: 1/19/2011 9:21:00 PM
Last Updated: 1/20/2011 11:00:05 AM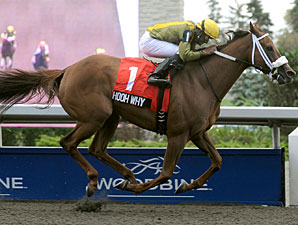 Hooh Why
Photo: Michael Burns
The Jockey Club of Canada will host their 36th Annual Sovereign Awards ceremony to honor the Canadian Champions of 2010, on Friday, April 1, 2011, at Woodbine Race Track in Toronto. Woodbine Entertainment Group will join in the celebration as they get ready to kick-off their 2011 Live Thoroughbred meet on Saturday, April 2, a date which represents the start of Thoroughbred racing in Canada.
In an effort to promote equal opportunity in determining the winners of the 17 race award categories, the voting began January 1, 2011, allowing for statistics for the entire year to be considered. The finalists and eventual winner were determined using a computerized points system based on each voter's first, second and third choice in each category.
The 2010 Sovereign Award Finalists, listed alphabetically in each category, are:
Champion Two-Year-Old Filly:
Delightful Mary
Roxy Gap
Wyomia
Champion Two-Year-Old Male:
Blue Laser
Madman Diaries
Rockin Heat

Champion Three-Year-Old Filly:
Biofuel
Free Fee Lady
Roan Inish

Champion Three-Year-Old Male:
Big Red Mike
Hotep
No Hesitation

Champion Older Female:
Hooh Why
Impossible Time
Simply Splendid

Champion Older Male:
Sand Cove
Southdale
Stunning Stag

Champion Turf Female:
Mekong Melody (IRE)
Miss Keller (IRE)
Perfect Shirl

Champion Turf Male:
Grand Adventure
Rahy's Attorney
Windward Islands

Champion Female Sprinter:
Hooh Why
Indian Apple Is
Sugar Again

Champion Male Sprinter:
Essence Hit Man
Hollywood Hit
Smokey Fire

Outstanding Broodmare:
Destroy
Enchanted Spell
Eye of the Sphynx

Outstanding Breeder:
Adena Springs
Eugene Melnyk
Sam-Son Farm

Outstanding Owner:
Bear Stables Ltd.
Melnyk Racing Stables Inc.
Sam-Son Farms

Outstanding Trainer:
Roger Attfield
Reade Baker
Mark Casse

Outstanding Apprentice Jockey:
Brian Cheyne
Omar Moreno
Ryan Pacheco

Outstanding Jockey:
Eurico Rosa Da Silva
Patrick Husbands
Chantal Sutherland

Media Award Categories:

Outstanding Newspaper Story:
Perry Lefko, Memories of the King of Claiming, Down The Stretch Newspaper, December 17, 2010
Jennifer Morrison, Da Silva will have crowd on his side at Prince of Wales, Toronto Star, July 23, 2010
Beverley Smith, Silky Smooth, Not Without the Colour Man, The Globe and Mail, August 17, 2010

Outstanding Feature Story:
Perry Lefko, Horse Hugs, Down The Stretch Newspaper, December 17, 2010
Keith McCalmont, Julia Brino: I'm coming back to ride, Down The Stretch Newspaper, January 2010
Jennifer Morrison, Mission Accomplished, The Blood Horse, January 6, 2010

Outstanding Photograph:
Terence Dulay, Hang on Big Red Mike, Canadian Thoroughbred, August/September 2010
Tod Marks, Miss Keller and her Bunny, Canadian Thoroughbred, December 2010
Cindy Pierson Dulay, Catching Seeking The Title, Canadian Thoroughbred, August/September 2010

Outstanding Film/Video/Broadcast:
CBC Television Network Sports, 2010 Queen's Plate, CBC Sports, July 4, 2010
ESPN Inc., 2010 Breeders' Cup Challenge Series, ESPN2, October 16, 2010
Horse Racing Alberta and Whiteiron Productions, 81st Anniversary of the Canadian Derby, TSN, August 21, 2010
Copyright © 2015 The Blood-Horse, Inc. All Rights Reserved.