Pletcher's 11 BC Contenders In Good Order
by Blood-Horse Staff
Date Posted: 11/7/2010 4:11:35 PM
Last Updated: 11/8/2010 8:10:47 PM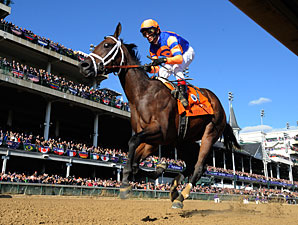 Uncle Mo
Photo: Skip Dickstein
Trainer Todd Pletcher said all 11 of his Breeders' Cup horses were fine the morning of Nov. 7.

Pletcher won three 2-year-old races, including the Grey Goose BC Juvenile (gr. I), a victory that makes unbeaten Uncle Mo an early favorite for the Kentucky Derby (gr. I) and probably clinched the Eclipse Award for 2-year-old male. Pletcher doubled his number of victories in the Breeders' Cup and earned $2,580,000 in purses to jump from eighth- to third-place in the standings with $11,223,650.

"It feels good. We had a successful Breeders' Cup," Pletcher said in a release. "You always wish you could have done better, I suppose, but any time you win a Breeders' Cup race you should be thankful and grateful. To win three--they weren't necessarily the three that we wanted, if we could pick three-- was a good showing."

One of the disappointments of the weekend was Quality Road , who was on the pace for a about a mile of the BC Classic (gr. I) under rider John Velazquez, but slowed in the second turn and finished last in the field of 12. Pletcher said the 4-year-old colt, who has been retired and will begin stud duties at Will Farish's Lane's End next year, was OK the morning of Nov. 7.

"Johnny said he never, never gripped the track," Pletcher said. "The one thing we kind of wanted to do was to get him off the rail at some point. We felt that if maybe there were any quirks about the track it was that maybe the inside path was the worst. He never was able to get out of that position with him and was always stuck down inside. Johnny said the track was cupping away from him and never could get going."

Quality Road has won eight of 13 starts, including four grade I races. "He's a brilliant horse, very, very gifted," Pletcher said. "His resume shows how versatile he was to set track records at Saratoga 6 ½ (furlongs) and track records going 1 1/8 miles at Gulfstream. He was a very good horse."
Pletcher won the Kentucky Derby Presented by Yum! Brands (gr. I) with Super Saver this year, and Uncle Mo's 4 1/4-length victory in the Juvenile gives him the early front-runner for the 2011 Derby. The last time the Breeders' Cup was held at Churchill Downs in 2006, Street Sense won the Juvenile and returned to Louisville seven months later to win the Derby. Uncle Mo is owned by Michael Repole.

"Two-year-olds are the future and it's exciting to go to Florida for the winter with what you would certainly think is the champion 2-year-old," Pletcher said. "To have to him run so well on this racetrack is exciting."

Pletcher said Uncle Mo will likely ship to the Palm Meadows training center in Florida sometime this week.

"The rest of the year he'll be in very light training," Pletcher said. "I've just had a brief discussion and haven't firmed anything up. My thought would be that he would probably have two races leading into the Derby if things go according to plan."

Since Repole is from New York, Pletcher said the route to the Derby may lead through the Wood Memorial (gr. I) at Aqueduct. Pletcher said that if he had his choice, he would bring the colt back in a one-turn mile race next year, but that no plans are in place.

Pletcher smiled at a question about whether Uncle Mo surprised him in the Juvenile.

"He exceeded even my expectations, which were pretty high," Pletcher said. "Somebody told me last night he ran a 108 Beyer figure. That's pretty impressive stuff for a young horse. I was optimistic going in and after the race I thought that was a pretty special performance."

Pletcher said that a closer look at Uncle Mo's record will show he had a spectacular season.
"I would say that his 2-year-old year was as good as any 2-year-old has ever had," he said. "I'm sure someone has started more times and won more races, but I couldn't imagine a 2-year-old being any more impressive than he's been in three starts."

Malibu Prayer is being retired by owner Edward Evans, but Pletcher said his other nine Breedres' Cup contenders may continue racing and most will spend the winter in Florida.

Pletcher said blood tests on Life At Ten, who did not finish the BC Ladies' Classic (gr. I) Nov. 5 confirmed high muscle enzyme levels and that the filly probably was suffering from cramps during that race.

"I think the owners are going to let the dust settle and make a decision whether they're going to race her again," he said. "The potential is there that she will race next year. She was withdrawn from the sale today and we're going to monitor her blood work. Right now she's going to stay here until we know what she's going to do."

Pletcher said he has not spoken with Barry Irwin, but expects that Juvenile Turf (gr. I) winner Pluck will have some time off in Florida before racing next year. Pluck delivered a powerful performance despite a troubled trip that began when he stumbled out of the gate.

"I need to watch the replay again to fully appreciate it, but the stumble itself would have been a legitimate excuse if he had gotten beat," Pletcher said. "After that he maneuvered around the fallen rider, it looked like he was sort of in a hopeless position at the five-eighths pole and delivered a huge kick."

Pletcher said he may try Pluck on dirt or synthetics at some point, but that he has proven his ability on turf.
Bobby Flay's Juvenile Fillies Turf (gr. II) winner More Than Real is headed to Florida.

"The plan for her right now is for her to go to Palm Meadows and look to start back up some time in Gulfstream," Pletcher said.

Grey Goose Juvenile Fillies runner-up R Heat Lightning is going to Palm Meadows to be prepared for her 3-year-old season. She was beaten in the race by Awesome Feather.

"I thought she ran huge," Pletcher said. "She has a lot of courage. She's a very determined, hard-trying filly that dug in and gave everything she had. She ran a big race. Unfortunately for us, one filly ran better."

Pletcher said Stay Thirsty , fifth in the Grey Goose Juvenile (gr. I) would head to Florida, too.

"I thought he ran OK," Pletcher said. "The last eighth of a mile he came up a little empty. That will be his last run of the year. We'll look to freshen him up a bit and go from there."
Rose Catherine is due for a vacation in Ocala after finishing seventh in the Turf Sprint (gr. II).

"She ran OK. She didn't get beat far," Pletcher said. "For whatever reason, she had a little trouble negotiating the turn. I'm not 100% sure what was going on with the turf course, but a couple of the riders commented to me that horses were slipping on it. She seemed to have trouble negotiating the turn and it kind of cost her critical position, of keeping herself in a position of where when she turned for home, she still had a chance to win."

Pletcher said he had yet to talk with Cot Campbell of Dogwood Stable, but expects Aikenite is headed to Dogwood's base in Aiken, South Carolina for the winter. Aikenite was eighth in the Dirt Mile (gr. I).

"I thought he ran pretty well," Pletcher said. "He's a horse that seems to be more confident when he gets to the outside and in the clear. Unfortunately, from the 3 post he kind of got stuck down in there. But I thought he ran a respectable race, dug in, and tried hard; kind of like Rose Catherine, didn't get beat far, but an incredible effort with no reward."

Allure d'Amour is headed to Florida after finishing 13th in the Juvenile Fillies Turf (gr. II).

"She veered out down the backside and cost herself a position and faltered from there," Pletcher said. "We think she has the potential to be a nice filly. We'll get back on track probably in an allowance race at Gulfstream."
Copyright © 2015 The Blood-Horse, Inc. All Rights Reserved.