Head: Goldikova 'Better Than She's Ever Been'
by Deirdre B. Biles
Date Posted: 11/3/2010 4:52:26 PM
Last Updated: 11/5/2010 1:51:29 PM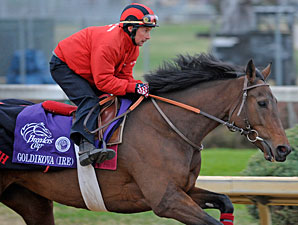 Goldikova looks the part of a defending champ.
Order This Photo
Photo: Anne M. Eberhardt
Freddy Head won two editions of the Breeders' Cup Mile (gr. IT) as a jockey, riding Miesque to victory in 1987 and 1988. He also has captured the Mile twice as a trainer, sending out Goldikova for triumphs in 2008 and 2009.
At Churchill Downs Nov. 6, Goldikova, who is an Eclipse Award winner and a European champion, will attempt to become the first horse to win a Breeders' Cup race three times when she tackles the TVG-sponsored Mile once more.
Here's what Head had to say to a group of reporters about Goldikova, her rivals, and other topics Nov. 2 at Churchill:
On returning to Churchill after winning the Mile there with Miesque in 1988: "I'm very happy to be back here. It gives me a little emotion to be back here at Churchill 22 years afterward. It's something that's a bit unreal with a horse like (Goldikova) that is trying for a 'three-peat.' We'll cross our fingers for the moment; so far, so good. She has been traveling well and she loves to be on a racetrack like this. I suppose she gets a bit bored at home walking in the alleys and the woods. Here, you see many more things and she loves it."
On Goldikova's 2010 campaign: "We've had a very good year. I'm very happy. It's the best year so far. Last year, I wasn't so confident because she had been beaten in her prep race (the Prix de la Foret, Fr-I, sponsored by Qatar in 2010), the race we won this year. So when we came, we didn't know if she would be the same (as when she won the Mile in 2008).
"But this year it's smooth all the time. She has been beaten once, but it was very special that day -- very, very hot and very soft ground. We were against a very good horse, the best 3-year-old miler, and he loved the soft (turf) and we didn't like it. But we've had a very good year, so that's why I'm very, let's say, confident. There's nothing against her really. She's traveled well and she's even better than she has ever been."
On Goldikova's outside No. 10 post in this year's Mile: "Maybe we would have liked it on the inside a bit more, but she'll manage. She won last year from that same sort of draw (post 10), and I think when I won here with Miesque I had the same sort of draw (post 8). We'll be OK. There won't be any problem."
On how the Churchill course is different from European courses: "It's a bit like Santa Anita; it's the same (sort of) track. Maybe the stretch is a bit longer and the turns a bit sharper; that's all. But (Goldikova) turns very well."
On the firmness of the Churchill turf course: "Last time at Longchamp she won and (the course) was on the soft side. Of course if it's (firm), it's better. She loves fast ground. I'll be happy if it stays like that. I haven't been on the course yet, but I think it's good. It's very good grass. I think it's going to be perfect."
On Goldikova's quest for a third Breeders' Cup Mile win: "Sometimes I say, 'Well hey, it looks a bit too good to be true.' It's something you can't imagine. It's a like a soap opera, but all things are going well; it looks too good to be true, really."
On the rest of Goldikova's training schedule at Churchill leading up to the Mile: "(On Nov. 4) she will canter like this morning, and I suppose, on (Nov. 5) she'll do a little spin, 400 yards or something like that in the stretch just to extend her. That's all."
On Goldikova's racing strategy for the Mile: "We'll leave it to (jockey) Olivier Peslier. She's very adaptable. She can do a lot of things. Last time at Longchamp she led. She won leading from the start and (Peslier) let another horse go by. She's very, very handy for that. That's what makes her so special, I think. It depends on the pace and who's next to us. Of course we would like a little pace because the faster the better for her."
On the toughness of this year's Mile field: "It's a top-class field, of course. You've got Paco Boy who is a real champion, and Gio Ponti, who is perhaps the best horse here on the distance and on turf. What can you say? It's a great, great match."
On whether he fears Paco Boy or Gio Ponti more: "I don't know. Of course, Gio Ponti is at home, which is a little better. For us it's always a bit difficult. We lose a little thing by traveling. You have to be 100 and something percent to win here (in America), because you have the trip and you've got the difference in training and the setup and everything, so it takes a bit out of you; there's no doubt. You need a special horse and she is (special) because she has done that (shipped to America and won the Mile) twice. Paco Boy is a very good horse, no doubt. We've beaten him every time, but it's been close, so we need everything in our favor."
On comparing Goldikova to Zenyatta: "It's hard to say. Zenyatta is fantastic; she's an extraordinary horse. All I can say is that Goldikova has been running against colts all her life, the best of this generation. Maybe it's not the same with Zenyatta, but let's say they're (both) champions."
On how Goldikova has changed, or not, since she won her first Mile: "She's a 5-year-old now, of course. She's put on weight and she's stronger, I think. But she's the same (mentally); she has kept her same willingness, and she's still fresh. She's like a 3-year-old horse. She wants to run and she doesn't seem tired or sick of running or racing or training. That's what's so good about her, she keeps that great attitude."
On Goldikova's temperament: "She's very good outside, but in her box, it's her kingdom. You can't go in. You have to be careful in her box. Her groom knows her very well, but you have to be a little bit careful in her box because she can be territorial. That's her place and she doesn't want people to get in. She can kick you out. But she's very good otherwise outside; she's very good on the track and anywhere else. She has got that tough character; that's why she's so good in a race. She doesn't let another one go by. She just fights."
On his feelings for Goldikova compared with Miesque: "I live more with her than I did with Miesque. As a jockey, you are not with a horse as much. I've been around her (Goldikova) every day. She's getting to be part of the family now, I guess."
Copyright © 2015 The Blood-Horse, Inc. All Rights Reserved.