Pletcher Works Five BC Hopefuls at Churchill
by Blood-Horse Staff
Date Posted: 10/30/2010 2:35:44 PM
Last Updated: 11/1/2010 2:48:06 PM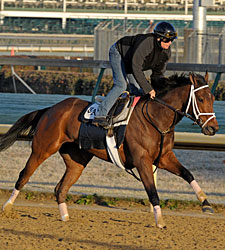 Malibu Prayer was one of 5 Breeders' Cup workers for Todd Pletcher at Churchill Downs on Oct 30.
Order This Photo
Photo: Anne M. Eberhardt
Todd Pletcher sent out five of his Breeders' Cup hopefuls Oct. 30 at Churchill Downs, including his Ladies' Classic (gr. I) duo of Cynthia DeBartolo's Life At Ten and Edward Evans' Malibu Prayer.
"To make sure that Life At Ten gets a good honest work, we put her in company," Pletcher said. "She generally does a little better in company and I thought this work went very smoothly. It was her first work here and I thought she got over the track very well."
Malibu Prayer, who won the Chilukki (gr. II) at Churchill last November and the Ruffian (gr. I) this year, worked a half-mile in :49. Malibu Prayer covered her first quarter in :25 and galloped out five furlongs in 1:02.
"I thought Malibu Prayer was typical of herself, as she's generally a very genuine work horse," said Pletcher. "I had her going :48 and change with a last quarter in :23 and change. She had a good finish with a good gallop out and we're very pleased with the way she was getting over the ground."
"I thought R Heat Lightning worked well, which she usually does," Pletcher said. "She's a very tricky filly to ride. She's a little bit difficult going to the pole, but once she set off in her work I thought it was very smooth with a good finish and a good first eighth gallop-out. It was just what we were looking for."
"It's amazing that there were probably only four horses on the track and we managed to end up in company with another one," Pletcher said. "But it seemed to go well. There was a little traffic to maneuver through and it kind of set More Than Real into the bridle a little bit and she was full of run throughout, and Pluck kind of got stuck out in the middle of the track. But I thought both horses went very well."
Copyright © 2015 The Blood-Horse, Inc. All Rights Reserved.