Average Grows 5.1% at Tattersalls Sale
by Deirdre B. Biles
Date Posted: 10/28/2010 7:14:38 PM
Last Updated: 10/29/2010 10:56:39 AM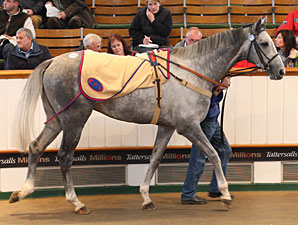 Aaman, a winning son of Dubai Destination, was the most expensive horse sold during the fourth and final session of the Tattersalls autumn horses in training auction Oct. 28 in England.
Photo: www.tattersalls.com
Aaman, a winning son of Dubai Destination, was the most expensive horse sold during the fourth and final session of the Tattersalls autumn horses in training auction Oct. 28 in England. Trainer Bernard Llewellyn purchased the 4-year-old colt for 42,000 guineas ($69,671 in U.S. funds) in order to give a helping hand to the riding career of his grandson, 16-year-old Robert Williams.
"This is a lovely horse and has been bought for Robert to ride," Llewellyn said. "He is a nice stamp of a horse and we thought he would go for around 30,000 guineas. We had to pay a bit more, but then you have to get a nice horse. The horse will do a job and will go hurdling and will probably have a dual-purpose campaign."
Consigned by Ed Vaughan's Grange House Stables and produced from the Sadler's Wells mare Amellnaa, Aaman has won four of his 18 career races.
The results for the final session included a gross of 832,600 guineas ($1,381,139) for the 158 horses that sold. The average price was 5,270 guineas ($8,742) and the median price was 2,900 guineas ($4,811). The clearance rate was 69.3%.
During the auction's four sessions combined, the 865 horses that sold grossed 17,577,300 guineas ($29,157,555) and averaged 20,321 guineas ($33,709). The median was 9,000 ($14,930).
Compared to 2009, when 903 horses were sold, the gross was up less the 1%. The average rose 5.1% and the median was the same.
The clearance rate was 79.6%, down from 84.9% in 2009.
"Our October yearling sales achieved figures broadly in line with last year's returns and the trade this week at the autumn horses in training sale has performed very similarly," said Tattersalls chairman Edmond Mahony. "The slightly larger catalogue has resulted in a lower clearance rate than the exceptional 84.9% at the 2009 fixture, but has improved upon the clearance rates in both 2007 and 2008. Another positive was the 550,000 guineas top price for Hearts of Fire, which was the second-highest price ever at the autumn horses in training sale. The diversity amongst the leading buyers has been particularly encouraging."
Copyright © 2015 The Blood-Horse, Inc. All Rights Reserved.