Shirreffs Talks Zenyatta
by Jason Shandler
Date Posted: 10/15/2010 2:33:37 PM
Last Updated: 10/23/2010 11:53:04 AM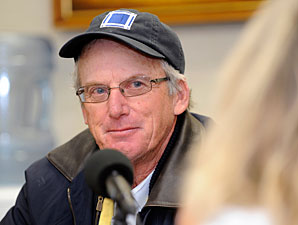 John Shirreffs answers questions at Keeneland on October 15.
Photo: Anne M. Eberhardt
On Oct. 15 at Keeneland, trainer John Shirreffs, who is in Lexington to saddle Harmonious in Saturday's Queen Elizabeth II Challenge Cup Stakes (gr. IT), gave a small group of reporters an opportunity to ask him about all things Zenyatta. The undefeated 6-year-old mare is expected make her final start in the Breeders' Cup Classic (gr. I) Nov. 6 and figures to be the star of the two-day championships at Churchill Downs.
Shirreffs, who is based in California and will not return to Kentucky until Zenyatta arrives Nov. 2, talked about everything from
Rachel Alexandra
, to Horse of the Year, to Zenyatta's 2010 campaign. Below are a few of the highlights from the exclusive interview.
On Zenyatta's 2010 campaign, which was different than the one the Mosses talked about when they decided to keep her in training:
"I think (the Mosses' comments) were a little bit misinterpreted because we race in California, which is on the other side of the Rockies. So it's a little different shipping around California than it is on the East Coast. We wanted to have the opportunity to let other people see her; which was obviously one of the reasons we went to Oaklawn Park with her. But when you have to decide where to go again, it's tough to turn down a grade I race and take her somewhere else when California supports her and stables her and takes care of her."
On deciding not to take on males in California this year:
"I really didn't consider it at all because I always thought we would do the same thing as we did last year; hoping to have her peaked at the Breeders' Cup Classic and not do anything that would cause any interference with that."
On her fitness level compared to this time last year:
"She's as good or better as she was this time last year. She really hasn't had any time off. She's been at the racetrack training since she was a 2-year-old."
On comparing this year's potential Breeders' Cup field versus the 2009 field:
"If you looked at the horses (from the 2009 field) and what they did after the Breeders' Cup, I think it's pretty evident. Twice Over won a couple of group Is, Rip Van Winkle just won a group I; so I think it was a very strong field last year."
On running on dirt versus synthetic surfaces:
"I think she prefers dirt. We didn't have an opportunity to run her very often on dirt, but one of the things I always tell people about dirt vs. synthetics is that when horses run on dirt their toes really get into the track; their feet rotate so they can push off differently. It's like when you get into a starting block on a track versus standing on the track flat-footed."
On what it will be like to walk her to the paddock for the final time:
"I don't even think about that. Walking to the paddock with Zenyatta is such a special experience. As soon as the crowd sees her they start yelling, 'Zenyatta, Zenyatta. Yeah, yeah, Zenyatta, Zenyatta.' And you're walking over and it's such an amazing feeling. Everyone loves your horse and loves you; it's such a great feeling. It will be an emotional experience. Churchill Downs is always an emotional race."
On whether there is a scenario where they wouldn't race her in the BC Classic, including an off track:
"I don't really want to talk about that because Churchill Downs has a real ability to handle water. So I think we have to wait and see."
On whether they would cross-enter her in the Ladies Classic if there is rain in the forecast:
"There is one problem with that. She leaves (California) Nov. 2. So if she doesn't go there on (Oct.) 31 you can't cross-enter. You have to be there four days in advance.
"It's the same thing this year as last year. We wanted to run in the Breeders' Cup Classic and that was our choice. That's our choice (this year)."
On whether they will pre-enter her in both races:
"I don't know. If she doesn't leave until (Nov. 2), the decision will have been made."
On whether he had second thoughts at scratching her from the Louisville Distaff (gr. II) last year at Churchill because of rain:
"No, I didn't have any second thoughts. It was a tough decision to make. I didn't feel I should make the decision on my own. So at 10 o'clock that morning I went out there myself and I said if they open the track just a little bit I'd run her. But they went out and left it sealed and I didn't know if they were exactly concerned about the horses because they just wanted to make sure the track is fast. All they had to do was just run the harrows over it a little bit to let a little air in it and I would have run her."
On whether there was any disappointment on the retirement of Rachel Alexandra before she could race Zenyatta:
"I thought the racing industry lost a huge opportunity last year when they had a great filly on the East Coast and a great mare on the West Coast and they didn't celebrate both of them; instead they pitted one against the other. I think they made a huge mistake.
"But I didn't go there with that that; I can't say it bothered me or didn't bother me."
On whether Jess Jackson's decision not to run Rachel Alexandra in the Apple Blossom had any bearing on the rest of Zenyatta's 2010 campaign:
"Not at all. If the opportunity presented itself it would have been great. But Steve (Asmussen) was training his horse and I'm training mine, so we do what's best for our horses."
On his reaction when Rachel Alexandra was retired:
"I didn't have a reaction. I think it's best for me to stay out of other people's business."
On whether there was there any consideration given to running her in the Goodwood in her last race instead of the Lady's Secret:
"I just felt like I would prefer to run against the boys in the Classic, mainly because those (male) races can be rough races. She's a dainty little girl you know… (laughter)."
If he was worried she would lose during any of her races:
"Several. But one in particular was the (2008) Vanity when (Bob) Baffert had a top filly in there (Tough Tiz's Sis). (Zenyatta) had to start her run at the half or 4 1/2 to get the speed and it was the longest extended drive I have ever seen a horse make."
On the thought of being disappointed if she loses her only race in her final race:
"It's not the end of the world (if she loses). Giving her the opportunity to achieve something that seems almost unattainable is more important."
"I haven't watched them run that much and I won't handicap the race until later on, but they are talented horses. Blame…they say he loves Churchill Downs; Quality Road has a lot of speed and if he happens to get an easy lead…and Lookin At Lucky is a nice 3-year-old. So it is what it is."
On whether he has a favorite Zenyatta moment:
"There are so many special times with her but walking through the paddock at Del Mar last year; that crowd was amazing. She was so focused through all the yelling and screaming and she didn't flinch. I was very proud of her."
On the opportunity to train her again in 2010 after the Mosses brought her out of retirement:
"I was really happy. It just didn't seem like she was ready to be retired (after the Breeders' Cup)."
On his level of disappointment after not winning Horse of the Year in 2009:
"We were very disappointed. I thought they had a unique opportunity because of the situation where they could have split it. I think it was absolutely fair that Rachel Alexandra won the Eclipse Award; I thought that was great. But I thought Zenyatta was equally as great."
On his disappointment if she would not win Horse of the Year in 2010, even if she loses the BC Classic:
"I would think it would be almost too much. For what she does for the industry for the last three years, I would say that would be a real slap in the face. Not only on performance but what's she's done for racing."
On being reminded that Quality Road, Lookin At Lucky, and Blame could all make very good cases for Horse of the Year with a win in the BC Classic:
"I think I said exactly what I wanted to say."
Copyright © 2015 The Blood-Horse, Inc. All Rights Reserved.