Change of Plans: Trippi to Ocala Stud
Date Posted: 9/20/2001 3:13:20 PM
Last Updated: 9/22/2001 6:43:00 PM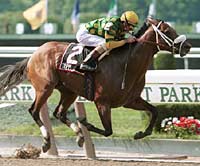 Trippi, in his 2000 Tom Fool victory.


Grade I winner Trippi, who was scheduled to stand the 2002 breeding season at Tom Simon's Vinery near Lexington, instead will begin his stallion career at J. Michael O'Farrell's Ocala Stud Farm near Ocala, Fla. A partnership headed by Ocala Stud privately bought the 4-year-old son of End Sweep from Dogwood Stable (Cot Campbell, president). Trippi, one of three stakes winner produced from the Valid Appeal mare Jealous Appeal, won five graded stakes and earned $666,220 for Dogwood. Vinery had agreed to purchase a 25% interest in Trippi's breeding rights from Dogwood last summer upon the colt's retirement from racing. The arrangement called for Trippi to stand at Vinery. Trippi was retired from racing this summer, and Campbell met with Vinery representatives to iron out the details. Campbell said that during the meeting the two parties came to the conclusion that Trippi's best chance for success at stud lay in Florida. With that in mind, Dogwood released Vinery from the original commitment.Dogwood has retained a minor interest in Trippi. Trippi's stud fee will be announced at a later date.



Copyright © 2015 The Blood-Horse, Inc. All Rights Reserved.