Buyers, Sellers React to Book Two Format
by Esther Marr
Date Posted: 9/16/2010 4:12:54 PM
Last Updated: 9/17/2010 8:54:27 AM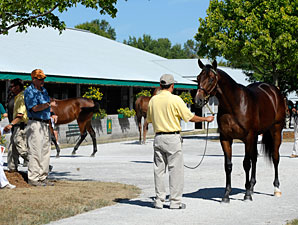 Photo: Anne M. Eberhardt
Following the first few days of Book Two horses being offered under a new format at the Keeneland September yearling sale, buyers and consignors had a chance to reflect on the positives and negatives of the change.
While most thought the new format—where 1,300 horses are being offered over the course of four days Sept. 14-17 in a larger Book Two—was a good change, others suggested possible improvements for the future.
"(The new Book Two format) will allow us to have more quality product in front of the larger professional buyers before we have our dark day," Keeneland's Nick Nicholson said when the new format change was first announced last spring.
With the Book Two sessions ending earlier each night, Keeneland officials also thought it would allow buyers—especially those from out of town—to engage in other activities while they are in Lexington for the auction.
"The market is making it look like we're mixing in good ones with bad ones, because the market is very selective, but I don't think that's the case," said Craig Bandoroff of Denali Stud, which had consigned several six-figure yearlings as of Sept. 16, including the last Storm Cat offspring to ever sell at auction—a $285,000 filly bought by Chiefswood Stables Sept 13.
"I like the new format; I think it can be tweaked and made better, but overall it has been very successful," said Bandoroff. "There are some logistical things that need to be worked on, but from a seller's point of view, it's nicer because you're selling less horses every day. The bad part is you're selling every day, but at least you're dealing with fewer of them, so you focus in on that group of horses better."
Bandoroff had a couple suggestions for Keeneland to consider in the future in terms of altering the format:
"I'd like to see them sell Book One in one night," he said. "Maybe start the sale at 4 or 5 in the afternoon and still have the atmosphere, but get it done and then move on to Book Two."
Michael Matz, trainer for Roy and Gretchen Jackson's Lael Stables, thought the new format seemed to be successful so far. "It might have been tough on the consignors the first couple days to get going, but it doesn't really make a huge difference to me either way," he said. "It probably keeps some people here a little longer in book two because they're going in alphabetical order instead of by quality and pedigree, but I think so far it's going well."
Dr. John Chandler, who owns Mill Ridge Farm with his wife, Alice, said while he liked the new format, "It's just been a little tough on the horses (we're selling), because we've had to have them here for much longer."
Trainer Steve Asmussen, who conditions reigning Horse of the Year Rachel Alexandra and was at the sale scouting out new prospects for clients, said buyers seemed to be receptive to the new format. "Buyers have been very responsive to it, and I think the sale is off to a great start," he said.
"I think (the new Book Two format) is working well," added Mandy Pope of the Citra, Fla.-based Whisper Hill Farm, which bought a $475,000 Giant's Causeway filly in Book Two. "I think it will keep people here all during the rest of this week, because all the days are balanced out with some really nice horses, and I have some more to sell.
"I haven't seen any down side…it's nice that you get done a little early; we actually got to eat dinner last night, so that was nice. It gives you time to relax for the evening and be refreshed for the next day."
Said Joe Seitz of Brookdale Sales: "For starters, the sale is very interesting because this new format has brought all types of buyers, all types of action. Showing has been really strong all the way through, so that obviously indicates that there's something for everyone."

"I like the new format," added Case Clay of Three Chimneys Farm. "I think Keeneland is right by saying 'Let's try this.' There was a lot of buzz on the first two nights. And by spreading Book Two over four days, you really can concentrate on each smaller group each day. So I like it."
Copyright © 2015 The Blood-Horse, Inc. All Rights Reserved.