There's Plenty to Talk About at Sept. Sale
by Deirdre B. Biles
Date Posted: 9/11/2010 7:17:29 PM
Last Updated: 9/12/2010 1:45:06 PM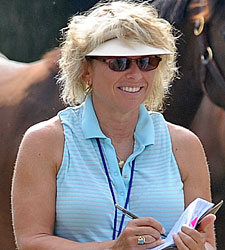 Gayle Van Leer, California bloodstock agent
Photo: Anne M. Eberhardt
Buyers and consignors had plenty to talk about before the Keeneland September yearling sale, which was scheduled to begin Sept. 12 in Lexington. A new sale format had tongues wagging and so did the state of the economy and the health of the Thoroughbred auction business. Read what they had to say:
Will Farish, Lane's End: "I'm encouraged. There are a lot of good buyers here. We've been showing steadily for two days now (as of Sept. 10). It doesn't mean the prices are going to go soaring upward—what's going to make the prices go up is the economy getting better—but it's good to see interested people. If they come here, they come to buy. They don't just come to look.
"I think the new format puts a little bit more glamour on the top horses. Night sessions are better. People get a little bit more excited about the sale. I think it's a good way to get the sale started."
Wayne Sweezey, Sweezey and Partners: "It's not going be strong at the top, and the second week is going to be weak. But I think the middle market is going to hold its own. The guys that I'm talking to who buy horses, I don't know any of them that have got any big orders. I hope the new format plays out positively for Keeneland and for the consignors who have their horses in the select sessions. Right this minute—and I might change my mind in a couple of days—I'm glad to have my Dynaformer and my A.P. Indy here rather than them being in among 10 or 15 of them (yearlings by the same sires) in the middle of the week. At least I feel sort of special."
Peter Bradley, Bradley Thoroughbred Brokerage: "I think it will still be difficult to buy very nice horses and it will be impossible to sell average horses. I think the upper end of the market is in more trouble than the middle range. People have a comfort level of spending around $125,000 and there are more people to spend that (amount) than there are to pay $500,000. The regional sales have kind of borne that out with their stability. Not that anybody is making any money, but at least horses are getting moved. At boutique sales with the higher end horses, the buy-back rates are higher and your average price is down."
John Williams, Kentucky horseman: "If you're a buyer, you can pretty much get what you want, and that's good. I don't think there is going to be any stealing of the good horses, but I think that you'll get them for, comparatively speaking, reasonable prices. That's the way it should be because (racing) purses are just barely reasonable and the cost of maintaining these horses in training has not leveled off; it continues to escalate."
Jaqui de Meric, Florida horsewoman: "There are a lot of people who are trouble right now with banks calling in notes, etc., so I think there are horses that are going to be available that wouldn't have been in our price range normally. But because there are too many good, professional horse people around, the good horses are still going to bring plenty of money.
Mark Taylor, Taylor Made Sales Agency: "From what I've seen, this is a nice crop of yearlings. I've had a much easier time finding horses this year that I scored really high than I have in the last couple of years. But everybody knows what the economic situation is and that there is a shortage of money (to buy horses), so breeders are going to have to realize that they are selling in a market that has declined significantly and set reasonable reserves. A lot of our clients who were in a position to race didn't even enter some of their horses (in the September auction) this year. They just said, 'Hey, I know I paid a premium for the stud fee. I like the horse; it's a very nice horse. I've got the financial means to race, so I'm going to take my shot at the track because I know I'm not going to get my stud fee back if I sell.' "
Gayle Van Leer, California bloodstock agent: "My guess is that there is going to be plenty of competition for the top horses. Later in the sale, it might be more of a buyers' market. But for the first two books (of the sale catalog), you're going to have to compete for the ones you want."
Martin O'Dowd, Runnymede Farm: "I think it's a good group (of select yearlings) again and let's see if people with money show up and are willing to pay for these nice pages (in the sale catalog). Speaking to a couple of people who have gone around and looked at a lot of yearlings, the indicators are that it's a particularly nice crop of yearlings this year."
Padraig Campion, Blandford Stud: "It will be more of the same, I think. The good thing about it is that good horses are still bringing a lot of money. They're just not bringing as much as they did three years ago, but it's still pretty good money".
Matt Lyons, Woodford Thoroughbreds: "The demand seems to be there for horses, but at the same time, everybody's got to stay realistic. We know that these horses cost a lot to produce, but we can't go crazy on our reserves. We need to stay realistic and try to get them to change hands and keep going.
"I'm excited to see how it (the new format for the select sessions) works. I like it that they (Keeneland officials) are thinking about it and thinking of ways to make it better, to get increased participation, and to jazz it up a little bit."
Brereton Jones, Airdrie Stud: "It's a tough market right now (for breeders), so it's a good time to buy a horse. Hopefully there will be enough people who want a nice horse who will understand that and help us begin to turn this thing around.
"We need to give a lot of things a try, so let's try it (the new format for the select sessions) and see how the buyers like it. That's the important thing. It's not so important how much the sellers like it; it's how the buyers like it."
Meg Levy, Bluewater Sales: "I think it's going to be the same as all the other sales. There will be a few horses at the upper end that everybody wants and then it will be tougher and we'll be appraising our other horses very carefully. That's going to be the hardest part."
Kenny McPeek, trainer: "I like it (book one of the sale catalog). There are a lot of good horses. You can see that some of the consignors brought some really special horses to the sale. The good ones are going to be hard to buy, but that's to be expected."
Jack Wolf, Starlight Partners: "On paper, what we plan on doing is probably buying about six horses, and I think we'll be able to get what we want. The problem is that when you get a good horse like Take the Points, who is a multiple grade I winner, you have trouble placing him as a stallion. I was just talking to a bloodstock agent friend of mine who also is having the same problem placing a similar horse. Can you buy yearlings more reasonably than you could three years ago? Absolutely. But if you happen to get lucky enough to have a good racehorse, the flip side of it is that it's hard to get the good money we used to get for our stallion and broodmare prospects. It's really taken the whole economic incentive out of it. You hope you break even at best."
Peter O'Callaghan, Woods Edge Farm: "If you're fortunate enough and your horses make the cut and make it onto enough people's lists, you should be fine. But not as many horses as we hope in our consignments will make the cut. People are getting a bit more selective and a little bit more streamlined in what they want and what they like. Unfortunately, not enough horses meet their criteria."
Greg Goodman, Mt. Brilliant Farm: "You have to be realistic. You can hope it will be as decent as last year, but it's probably going to be tougher. It's hard to figure out what people want and what they are going to do. There are great people, the best in the world, looking, but I'm sure they've all got a price in mind (that they don't want to go above). The top has a limit, but whether it's $1 million or $1.5 million or $2 million, I don't know. It's probably $2 million or less, for sure."
Copyright © 2015 The Blood-Horse, Inc. All Rights Reserved.