Numbers Game: No Room For Belmont on TVG
by Jason Shandler
Date Posted: 9/11/2010 4:42:55 PM
Last Updated: 9/12/2010 1:56:07 PM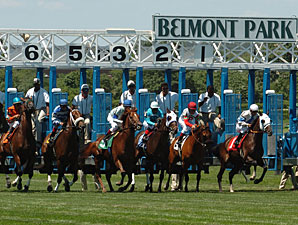 Photo: Coglianese Photos
Many viewers who tuned into Television Games Network on Saturday, Sept. 11 expecting to see live racing from Belmont Park may have been surprised when they were unable to do so for much of the day.
According to TVG senior vice president and executive producer Tony Allevato, the reason was very straightforward: It came down to a numbers game.
"We have a plethora of tracks running today that are exclusive to TVG," Allevato said. "Woodbine, Turfway Park, and Monmouth Park are among them. TVG is the only place where people can watch them on television. We are also required by contract to show Delaware Park two or three days per year, and today is one of them. NYRA is not an exclusive track. (Belmont) races are available on the other horse racing network (HRTV).
"So basically, we had no choice. We can't show every race. We only have 60 minutes in an hour. It wouldn't make sense to show 16 or 18 races in an hour. We wouldn't be doing a service to anyone by doing that."
TVG was able to show a few of the Belmont races live later in the day, including the Bowling Green Handicap (gr. IIT).
Allevato made it clear that there was no dispute between TVG and NYRA, and races from Belmont would be shown on the network as usual on Sunday, Sept. 12.
"We recognize that there is really good racing from Belmont today," Allevato said. "We would have loved to show their races, but we couldn't. It would have hurt our coverage. It's just a one day thing."
NYRA executive vice president and COO Hal Handel released the following statement regarding the matter:
"TVG made the decision not to show today's races at Belmont Park, either live or by replay, without contacting NYRA," said Handel. "TVG has the right to display our races but they make their own decisions on what programming to offer. We have encouraged TVG to revisit the issue, but ultimately it is out of our control."
Copyright © 2015 The Blood-Horse, Inc. All Rights Reserved.