Keeneland's New October Sale Begins
by Deirdre B. Biles
Date Posted: 9/17/2001 5:02:38 PM
Last Updated: 10/15/2001 2:13:18 PM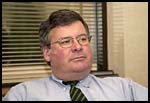 Keeneland sales director Geoffrey Russell.
Photo: Anne M. Eberhardt

With more horses cataloged than originally planned for, Keeneland enters new territory with its inaugural October yearling sale today. In all, 644 lots are scheduled to be offered during the auction, which concludes Tuesday.The number was increased because "some of our good clients asked us if we would be able to accommodate them," said Keeneland's director of sales, Geoffrey Russell, who originally had hoped to limit the total to around 600.When the auction was first planned, "we thought that if we got 400 horses we would be happy," Russell said. "But when people starting to ask about October before this year's September sale even closed, we weren't surprised [by the number of entries]."Asked to explain October's popularity, Russell said: "If you have a nice individual, it will stand out in a sale of 600 horses. But in a sale of more than 4,000 horses like September, people might not look at it."The high buy-back rates at a number of yearling sales this year also might have contributed to October's popularity with consignors.Keeneland officials added the October auction to their calendar in an effort to reduce the numbers offered during the September sale, which is the largest yearling auction in the world. Fewer horses were catalogued for the September sale this year, but the number of sessions, 13, remained the same as in 2000.Catalog, sales results, Keeneland



Copyright © 2015 The Blood-Horse, Inc. All Rights Reserved.