Countdown to the Cup: Afleet Heat
by Steve Haskin
Date Posted: 8/30/2010 9:33:40 PM
Last Updated: 9/8/2010 5:57:40 PM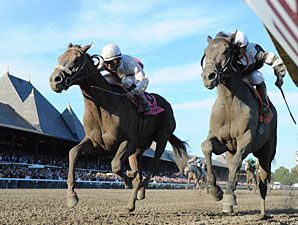 Afleet Express in the Travers.
Photo: Adam Coglianese

The 141st Travers Stakes (gr. I) Aug, 28 was all about fathers and sons.

Hall of Fame trainer Allen Jerkens has been known to weep openly following a victory, even after six decades as one of the top trainers in America. His most recent tears had been shed on Aug. 27 when he won a 3-year-old maiden race, his first winner at Saratoga since Aug. 6, 2008.

But an even more emotional moment came the following day when he sat at home and watched his son Jimmy win the Travers with Afleet Express , who just eked out a victory by the slimmest of margins.

Jimmy thought of his father after the race, knowing what he must have gone through watching the race and having his son win one of the most of the most prestigious races in the country; a race he was never able to win himself.

"I'm sure he's beside himself," Jimmy said. "Whenever I win or my brother (Steve) wins, he gets tears in his eyes, just like he does when he wins."

By the time Jimmy spoke to Allen, the tears had pretty much dried. "He had gotten it out of his system and was composed by then," Jimmy said. "Five minutes earlier I'm sure he was in tears. He said it had to happen one of these days. I know he was crying last night after he won."

The morning after the race, the elder Jerkens sat on his pony outside his barn, and was still beaming over what Jimmy had accomplished.

"Wasn't that great?" he said. "That was pretty exciting. You can't get a closer photo than that. It was a helluva race to win and a helluva race to lose. I was more emotional than Jimmy. He's had a lot of things happen to him the past couple of years that have really bothered him, like losing Quality Road and all the (Edward P. Evans) horses, and the Moore's (Susan and John) horses."

For Afleet Express' co-owner Antony Beck, president of Gainesway Farm, who owns the son of Afleet Alex – Expanse, by Distant View, with Martin Cherry, this was a bittersweet moment. Beck's, father, Graham, who owned Gainesway for many years, died July 27, a month and a day before the Travers, and his son had been in England most of that time attending to his father's affairs.

"I really wish my father could have been around to see this," Beck said. "He would have been very, very happy and very proud. He was so proud when Afleet Alex came to Gainesway, and Alex has been exceptional from the get-go. And it's so wonderful for me to have my children witness this. It's something they will remember."

Beck pointed out that the last time the Gainesway Farm silks were seen in the winner's circle following a major stakes was after Timber Country's victory in the 1995 Preakness Stakes (gr. I). "Dad died a month ago yesterday and this would have been his biggest victory since that '95 Preakness," he said.

And finally, there is Afleet Alex, who not only sired the Travers winner, he also sired the winner of a 2-year-old maiden race earlier on the card for Afleet Alex's owners, Chuck Zacney, Joe Lerro, and Joe Judge of Cash is King Stable.

Following the Travers, Lerro, his shirt soaked in sweat, posed in the winner's circle, raising his arms and shouting "Afleet Alex!" For the Cash is King group, not only were the victories of Afleet Express and their maiden winner, Alexandra Rylee, special moments, they also were thrilled with the fourth-place finish of their Afleet Alex colt, Afleet Again, in the Travers at odds of 47-1.

"On top of all that, we got $50,000 for finishing fourth," Lerro said. "Alex has been so classy; he's still paying dividends. We have to thank everyone at Gainesway. They've been so great."

The Travers drew a wide-open field of 11 following the early defection of Lookin At Lucky , winner of the Preakness and Haskell Invitational (gr. I) and clear-cup leader of the division.

The odds reflected the competitive nature of the race, with the favorite, Trappe Shot , going off at nearly 4-1, followed by Jim Dandy (gr. II) winner A Little Warm at 9-2, and five others at 6-1 or 7-1. Even the fairy tale horse, Admiral Alex, another son of Afleet Alex, who went into the race off only one maiden victory, was bet down to 11-1 by the crowd of 45,764.

In the paddock, Jerkens told jockey Javier Castellano to do whatever he wanted and just try to give him a good trip.

"I told Javier he knows the horse and I was leaving it up to him," Jerkens said. "I told him, 'The horse is doing really well and I think he'll do whatever you want him to do. He's dead-fit and I believe he's as good as he's ever going to be'."

At the start, Miner's Reserve went to the lead from the 1-post, followed by a closely bunched group, including First Dude , Trappe Shot, Afleet Express, and Admiral Alex. Heading into the first turn, Admiral Alex came out and forced Afleet Express out several paths, but Castellano quickly made his way to the inside, settling in comfortably behind the leaders. Friend or Foe got hung 6-wide going into the turn, and pretty much lost all chance. The Nick Zito-trained pair of Fly Down and Ice Box were at the back of the pack, in ninth and 11th, respectively.

Down the backstretch, Miner's Reserve still held on to a slight lead through solid fractions of :23.42 and :47.25. Afleet Express remained on the rail in fourth and was running smoothly, but it was apparent he was going to need some luck finding his way through. Super Saver , winner of the Kentucky Derby Presented by Yum! Brands (gr. II), surprisingly was back in eighth, also along the inside.

Around the far turn, after three-quarters in 1:11.39, First Dude and A Little Warm began to close in on Miner's Reserve, with Castellano, who was nudging Afleet Express along, still waiting for room. The biggest threat looked to be Fly Down, who was circling horses and quickly moving into contention.

Turning for home, Afleet Express appeared to be trapped, but a hole quickly opened when Trappe Shot began to back up and he was able to slip inside him. Fly Down, meanwhile, had all the worst of it, having to swing seven-wide and then getting stuck on his left lead. Afleet Express gained a narrow lead at the eighth pole, as Fly Down came charging up on his inside. The pair began to draw clear of the pack, with Afleet Express, who ducked in briefly and was running with his head cocked to the outside, digging in gamely to meet the challenge of Fly Down, who still was on his left lead.

They hit the wire in a virtual dead-heat, the 1 ¼ miles in 2:03.28. It was so close, it was difficult to tell who had won even after seeing the photo.

"I knew it could go either way," Castellano said. "I'm just blessed and thankful it went my way. After the wire, Jose (Lezcano on Fly Down) yelled over, 'What do you think?' And I just said, 'Too close to call.' I'm very, very proud of my horse for going through the hole between two horses. I thought I'd win the race by the eighth pole, but he hung a little bit in the last part of the race, and I give credit to the other horse for finishing very strong."

Jerkens said he thought at first he might have gotten beat. "Win or lose, I was happy he had run so well, but if he had gotten beat it would have been hard to swallow" he said, "It hurts when you lose one of these, but it happens to all of us.

"This is probably the highlight of my career, with all the coverage it gets and the excitement leading up to the race. And it's extra special to win at Saratoga."

It was also the biggest win in Martin Cherry's career as an owner. "What a thrill," he said. "I knew we had a big shot, but who can predict this?"

After watching the replay on the infield screen and seeing just how close a finish it was, Cherry said, "Oh my God. I better get the money fast before they change their mind and take it away from me."

It was another tough defeat for Zito, who has now finished second this year in the Kentucky Derby, Belmont Stakes (gr. I), and Travers, and was third in the Preakness.

"That's the story of our year," Zito said. "I can't explain it. Sometimes, like I say, you've got to be content. You've got to be grateful, but it's tough."

Afleet Express was bred in Kentucky by James Devaney and the McMillin Brothers and was purchased by Gainesway at the Keeneland January mixed sale for $245,000.

"Even as a baby, he had an amazing stride to him and great motion," Beck said.

But despite his attributes, Gainesway spent the next 15 months trying to sell him. They consigned him to the Keeneland September yearling sale, only to buy him back for $185,000 after he failed to meet his reserve.

"The market was very soft and there just wasn't any interest in buying him," Beck said.

They tried again at the Fasig-Tipton October yearling sale, but the colt had what Beck called a "boxy foot" and he was withdrawn from the sale. The following spring, they put him in the Keeneland April 2-year-old sale, but again had to withdraw him with minor physical issues. By then, the partners wanted out, so Gainesway and Cherry bought them out and were pretty much left with no choice but to race him.

Even after they turned him over to Jerkens, the colt had some soreness in his hip area and they had to work on him. When they returned from Florida, Afleet Express began to turn it around, and Jerkens said the colt began to get more confidence and was able to push off much better.

Now, here was Jerkens some four months later in the Trustees Room, sipping champagne with Beck and watching the colt that couldn't be sold win the Travers.

Jerkens loved everything he saw, but after several replays he had enough, as it became too agonizing to watch the finish over and over.

As they hit wire again, Jerkens said, "Whew," then turned around and walked away. "I can't watch it anymore," he said. "At least for a while."





Copyright © 2015 The Blood-Horse, Inc. All Rights Reserved.