Saratoga Reflections: A Select Sale Review
by Deirdre B. Biles
Date Posted: 8/9/2010 3:56:13 PM
Last Updated: 8/10/2010 9:08:56 AM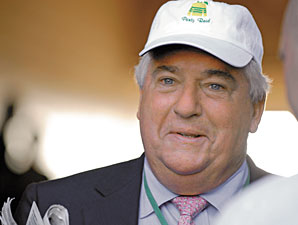 John Greathouse
Photo: Anne M. Eberhardt
The latest edition of the Fasig-Tipton Saratoga select yearling auction suffered downturns after a strong performance in 2009. Here's what buyers and sellers had to say about the sale, which was held in upstate New York Aug. 2 and 3:
Mike McMahon, McMahon Bloodstock: "The market is there for quality, but there are 4,000 more yearlings coming at Keeneland and there is no a sense of urgency among buyers. Where there did not seem to be any competition at all was for the horses under $100,000."
Archie St. George, Eaton Sales: "The market is definitely tighter than it was. The buyers are there (on a horse) or they're not. The horses we had action on sold for fair prices. You've got to be very realistic about what you want for a horse. The (yearlings by) more proven sires are the ones the buyers want. It's trickier than in the past."
Dave Whitford, Sam-Son Farm: If you're very reasonable with your book values and reserve your horses very reasonably, you'll get them sold. (In valuing your yearlings), you have to look at what the stud fees are this year as opposed to (what they were) two years ago."
Headley Bell, Mill Ridge Sales: "The market is thin and it's selective, I think racing is challenging and thus there is no confidence to go and race. We're just in a funk right now and it's going to take some time (for the market to get better). We really need to address this sooner rather than later. We need to do what we need to do to make this a more enjoyable sport."
John Greathouse, Glencrest Farm: "There are end users selling (many of) these horses, and they're willing to take a stand and keep their animals. I've said for some time the United States lacks pedigree (after) selling so many of the good fillies and stallions. I don't think our stallions -- after you get past a couple of horses and you know who they are -- have much international appeal. The lack of European and Japanese buyers says it all."
Richard Kent, Kaizen Sales: "What we used to think of as well-above average for a physical doesn't quite cut it anymore. Yearlings have got to be exceptional (physically), and then they've got to tick all the boxes with regard to pedigree and veterinary inspection. There were buyers who all landed on the same horses and couldn't always get what they wanted. In the old days, when they couldn't get them, they used to fall back and buy something else that they could get. Now, that just doesn't seem to happen. They say, 'Our short list is our short list.' If you intereiwed 100 people, they all had eight out of 10 of the same horses on their short lists, and then those people didn't venture anywhere else.
"As far as the showing was concerned, it was very good. I showed solidly for three days and the traffic was consistent with what it has been in years past. I compliment Fasig-Tipton in terms of doing a tremendous job. They really did everything to make the sale as good as it possibly could be."
Randy Hartley, Hartley/De Renzo Thoroughbreds: "I think the market is adjusting. I feel like there's great opportunity here, and I don't think it's going to get any easier down the road to buy the kind of quality that's here. The quality is selling really well, and we tried to stay away from the horses that we thought the big guys were going to land on."
Tom Goff, Blandford Bloodstock: "Given the backdrop of the economy in America and Europe, I don't think it's a massive surprise that the aggregate is a bit down. I think that one can read too much into market trends. Horsemen turn up at a horse sale, look at the stock, decide whether they like it or not, and value it accordingly to reflect the economic times."
Barry Irwin, Team Valor International: "I would just say what everybody else says, 'It (the market) looks thin.' If you've got something that's worth $300,000, people are interested. Between $200,000 and $300,000, it's dicey. Less than $200,000, no."
Mark Taylor, Taylor Made Sales Agency: "To me, it's like three different markets are going on simultaneously. You've got your market where end users are looking to buy horses up to $200,000. You're not going to get more than 200,000, but you might get up to $200,000 or you might have somebody in there at $90,000 on a horse that you only had one scope on, but at least you're getting the horse sold.
"Then you've got the bigger players that are after the more popular horses, but it seems like their ceiling is about $400,000. And then you've got the horses that Sheikh Mohammed or some other big player wants, but it's pretty rarefied air when you get above $500,000."
Pat Costello, Paramount Sales: "We thought we had lovely horses, and we do, but it's just a tough market. Even if we had lowered our reserves another 20%, I don't think it would have made a difference. There just wasn't anybody there for some horses. It's going to be a tough year if this is any indication. This will be a great lesson for the (Keeneland) September sale coming up. Everybody is going to have to lower their expectations even further. We're dealing with a smaller pool of buyers."
Stuart Morris, Dapple Stud: "The biggest target in the market right now, I think, is the racehorse folks (wanting yearlings) in that $150,000 to $350,000 range. There are a lot of people who are strong for the right horse that checks all the boxes in that range, and with the correction in the market, they can buy very nice horses in that range. The top is very thin. And for $100,000 and under, it's tricky and tight.
"I think Fasig-Tipton has done a great job. There has been a ton of people here. All of the horses have been looked at a million times, and you certainly can't complain if you don't get something done that it was because you didn't get exposure to the buyer you wanted to get exposure to. But it's still a buyers' market. They're driving the bus right now, and we're still dealing the last yearling crop with high stud fees and overproduction. I'm hoping if we can stay flat and level this year or real close to what we were last year, that we'll start to rise again next year."
Dr. Steve Carr, Centennial Farm: "I think (Fasig-Tipton officials) have got to be a little bit disappointed. My thoughts on the inspections were that there were a lot of nice horses here, but not that many super nice A-plus horses that were going to bring a million dollars-plus and that is hurting (the sale's average price) a little bit. I think the superstar horses are what the sale is missing."
Wayne Sweezey, Sweezey and Partners: "The market is very thin. I think that best describes it. If you don't have the horses that people want – and there are only so many buyers here -- you're not getting them sold. If you're not very realistic about your reserves, you're going to take them home, and you've got to forget what you paid in stud fees. That can't be part of the equation. I know a lot of people are hurting. I feel bad for a lot of folks."

Copyright © 2015 The Blood-Horse, Inc. All Rights Reserved.