Keeneland Selected Sessions End on Positive Note
Date Posted: 9/12/2001 11:20:48 AM
Last Updated: 10/26/2001 11:50:50 AM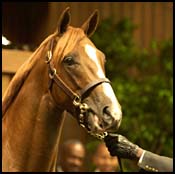 Storm Cat colt sold for $6.4 million at Keeneland's Wednesday session.
Photo: Anne M. Eberhardt

Wednesday began with a lot of questions for the Keeneland Association, mostly surrounding what effect the terrorist attacks in New York City and Washington, D.C. on Tuesday would have on resumption of the September Yearling Sale.Should they resume the September yearling sale after a one-day hiatus? Would buyers, consignors, and the people who work in the barns be able to concentrate on selling horses rather than the events of Tuesday? Would the likelihood of a downturn in the U.S. economy as a result of the terrorist attacks diminish buyers' appetites for expensive horseflesh? Would the Middle Eastern buyers that the Keeneland sales have come to rely on be detered from showing up at the sale?By the end of the day, the sales company in Lexington, Ky. had gotten affirmation that the right decision had been made. There was competitive bidding between buyers from North America, Europe, and Middle Eastern countries during the session, which was highlighted by a Storm Cat colt bringing a top price of $6.4 million, second-highest ever paid at the fall auction.Overall, Keeneland reported 197 horses were sold Wednesday for a total of $75,962,000. The average price of $387,561 represented a decline from the $420,000 average during the comparable session one year ago when 225 horses sold for $94,590,000. (That session, the second of two selected sessions, was one of the most successful in Keeneland sales history, a "one-in-a-million" session, according to sales director Geoffrey Russell). Wednesday's buy-back rate was 25%.Including Monday's first session, Keeneland reported that this year's average price of $386,170 for the 353 horses sold during the two selected sessions represented a 5.5% gain over last year's $366,009 average when 443 horses were sold. The median price was also up, to $210,000 from $195,000. With fewer horses offered and fewer sold, the gross of $136,318,000 was down from the $162,142,000 for the first two days in 2000."We have never had a horse sale a day after a tragedy like this," said Russell. "People walked in a little shell-shocked this morning and once they settled in, we had a very good sale. The professionalism of the buyers, sellers, and our own staff to go on after such a tragic event was admirable. For people to get over that and settle down to the business of selling horses was very commendable."Russell said it remains to be seen whether sellers will be able to travel to Lexington, Ky. for the remainder of the sale as a result of air travel being disrupted. He said all of the horses to be sold Thursday and Friday were on the grounds and that most of the buyers for those horses were also in town.The sale topper, a half-brother to three graded stakes winners, opened at $500,000 and quickly went in half-million dollar increments to $3.5 million. From there, either $100,000 or $200,000 bids were taken by auctioneer Ryan Mahan, with O'Byrne inside the sale pavilion and Ferguson in his usual spot near the back walking ring.The Storm Cat colt, sold by Lane's End Farm as agent for Stonerside Stable, represents the second highest price horse ever sold at the Keeneland September sale. Last year, Lane's End sold a Storm Cat colt for $6.8 million. The buyer of that colt was also O'Byrne.John Adger, breeding and racing manager for Stonerside, said owners Robert and Janice McNair had the option of retaining the colt to race in their own stable had he not brought the price they were seeking. He acknowledged that the price paid by Coolmore was about 25% higher than they thought the horse would bring.Citing the Tuesday attacks in New York and Washington, D.C., O'Byrne declined to discuss his horse purchases Wednesday.Ferguson, representing Sheikh Mohammed paid $3.8 million for a daughter of Mr. Prospector-Destination Mir, by Cherokee Colony. The bid came minutes after Ferguson went to $2.3 million to acquire a daughter of Deputy Minister. In between the two seven-figure purchases by Ferguson, O'Byrne paid $3.3 million for a son of Storm Cat out of the Deputy Minister mare Clear Mandate.Sheikh Mohammed, who has paid the sale's top price so far of $5.5 million for a Storm Cat colt bought at Monday's opening session, said he views Tuesday's actions as "a cowardly act. We are against it 100 percent and we are 100 percent with America."The Defense Minister for the United Arab Emirates, Sheikh Mohammed said, "We will do anything we can to get these people to justice. We shouldn't stop with our lives, to let them gain anything. We should get on with our lives and bring these people to justice."Sheikh Mohammed, said he was on the telephone often Tuesday as he discussed the events with officials in the UAE, said his buying at the sale would not change as a result of what happened Tuesday.Another top buyer, Prince Ahmed Salman of the Thoroughbred Corp., echoed Sheikh Mohammed's sentiments."I feel as badly as any American and I am extremely astonished by this," said Salman, a member of Saudi Arabia's ruling family. "We have had terrorism in Saudi Arabia and we know how painful this is, but I have great confidence in the American government and the American people. I have a very soft spot in my heart for this country."Salman said he had been advised not to attend the sale Wednesday because of a potential negative backlash from some Americans toward him and others of Arab descent.Top Prices, Sires, ConsignorsLive Hip by Hip Results, Leaders' Lists



Copyright © 2015 The Blood-Horse, Inc. All Rights Reserved.