Market Talk: What Might Happen at Saratoga
by Deirdre B. Biles
Date Posted: 7/31/2010 7:40:46 PM
Last Updated: 8/1/2010 10:46:38 AM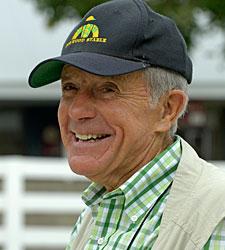 Cot Campbell, Dogwood Stable
Photo: Anne M. Eberhardt
Buyers and consignors generally were optimistic heading into the Fasig-Tipton Saratoga select yearling auction, which will be held August 2 and 3 in upstate New York. But they weren't predicting any huge upswings because of continued concerns about the economy and racing's health. And they expected the market to continue to be selective. Read what they had to say:
Cot Campbell, Dogwood Stable: "The sale will be brisk because of the fine promotion and recruitment by Fasig-Tipton. I expect the sale to be good, and I think some of the more glamorous buyers will be in action here. I guess that will make it tougher for me to buy, but I usually get it done. I'm looking for one pretty high class colt, and I think I'll be able to buy one. Consignors are more realistic and a lot of them are interested in staying in on (the ownership of) a horse, which is attractive to me in certain cases and makes it more of a doable deal."
Barry Irwin, Team Valor International: "I think it's going to be a decent sale. It's going to be fair for both buyer and seller. Things have kind of stabilized, and everybody is pretty realistic. When you have this few horses and these guys (at Fasig-Tipton) have worked so hard to pick them out, people will be happy when it's over."
Lincoln Collins, Kern Thoroughbreds: "I am surprised and delighted at how many people in this rotten economy are buying nice horses. But you've got to have a nice one (to attract buyer interest), and there are plenty of nice ones here. I'm sure that they'll make decent money. I think it's going to be probably quite a long time before we see very big prices again, but's that's the world we're in. We need more people in this business and we need racing to be made fun for the people who have horses and the new people who are coming in."
Alfred Nuckols Jr., Hurstland Farm: "In a best case scenario, I'd love to see this sale up 5% or 10%. The top of the market right now seems like it definitely has a limit on what people will go to. I think the sale will be solid, but maybe not spectacular. The big thing I would love to see is a good clearance rate. This is the boutique, select kind of market that horses will sell in because usually the buyers at the top end aren't relying on banks for financing and can pretty much buy what they want."
Marshall Silverman, consignor: "I think the sale is going to hold its own. It's going to be as good as it can be. There's interest in horses, and there's a lot of Europeans here that I've seen. The news over there (in their part of the world) doesn't sound great, but they're here. I have more sire power in my consignment, so I'm hoping for the best."
Meg Levy, Bluewater Sales: "We had a good showing day yesterday (July 30). In past years, we wouldn't have even been showing on Friday, but we averaged 30-some shows per horse, which is business as usual. Hopefully, it will be a great sale as it was last year when there were multiple bidders on horses. I hope that demand at the upper levels will still be here. The sale company has done a great job putting together a truly select catalog with (top) physicals and pedigrees. As we saw in July (at the Fasig-Tipton Kentucky select sale), quality is what people want."
Tommy Eastham, Legacy Bloodstock: "I think if we're ever going to have a (strong) horse sale, it's going to be here. There seem to be more positive vibes, and we're seeing a lot of people we didn't see in July (at the Fasig-Tipton Kentucky select yearling sale). The weather's beautiful; it's just about a perfect environment. But I think the bulls-eye here will be extremely tight and it's going to still be a selective market. If you don't hit that bulls-eye, you're probably going to go home with your horse."
Chris Brothers, Xavier International Bloodstock: "It's a great place to buy a horse, but the way it was last year, you're kind of a little timid about some of these horses because you don't think you're going to come close on them. It just depends on what Sheikh Mohammed is doing. The physicals at this sale are better than they were last year, to be honest. There are some great horses up here."
Case Clay, Three Chimneys Sales: "Saratoga is a nice little oasis that is not necessarily an indicator (for the overall yearling market). There are some very nice horses, and it's a good place for people who want to spend money on nice horses. I actually feel pretty good about it. You've got great racing, and Fasig-Tipton has done a nice job of teaming up with NYRA (the New York Racing Association) and making sure people have a great experience. Everybody walks around here with smiles on their faces, and I think that will probably be reflected in (the prices for) the nice horses in the sale. The market still will be selective; there still will be some van rides home. But good ones will sell very well. There's something about Saratoga that makes people feel good."
Arthur B. Hancock III, Stone Farm: "It was a good sale last year, and I'm hoping it will be just as good this year. I'm hoping some of our Arab friends will be here, particularly Sheikh Mohammed, and I've seen a lot of other good people (who are top buyers) up here already. We've had good, steady showing. Fasig-Tipton has put nice horses in this sale. It's a boutique, Tiffany kind of a sale. When you have good horses and good people, you're optimistic."
Kitty Taylor, Warrendale Sales: "We were really busy yesterday (July 30). It was very steady all day long. I think it's going to be a good sale because there are more proven sires in this sale than in July (at the Fasig-Tipton Kentucky select auction) and because everybody has kind of got their feet underneath them as far as the first (yearling) sale of the year being over. Now they have more of a let's move forward into the sales season attitude."
Headley Bell, Mill Ridge Sales: "I thought the market in July (at the Fasig-Tipton Kentucky select yearling sale) was fair, and that's all you're asking for right now. I'm hoping for a continued fair market where buyers are able find something they feel is a value and an athlete and where sellers feel they are getting a fair price considering the economy that we're in."
John Ward, trainer: "It looks like there is a bigger mix of buyers here, and in the catalog, it looks like they (Fasig-Tipton officials) are trying to get the European influence back (in the pedigrees), which I think is great. I think everybody is going to want a good horse, but they're not going to go overboard. Realism has set back in to the market, and that's what breeders are going to have to contend with. On the buyers' side of it, they might be getting some good horses for reasonable investment prices."
Copyright © 2015 The Blood-Horse, Inc. All Rights Reserved.